Seguimos con el encargo de los pequeñines, y para quitar la pintura, yo los meto en un baño con líquido de frenos. Disculpad por las fotos porque no tienen mucha definición, pero indican el proceso:
We continue with the little ones, and to remove the paint, I put them in a bath with brake fluid. Sorry for the photos because they are not very well defined, but they show the process: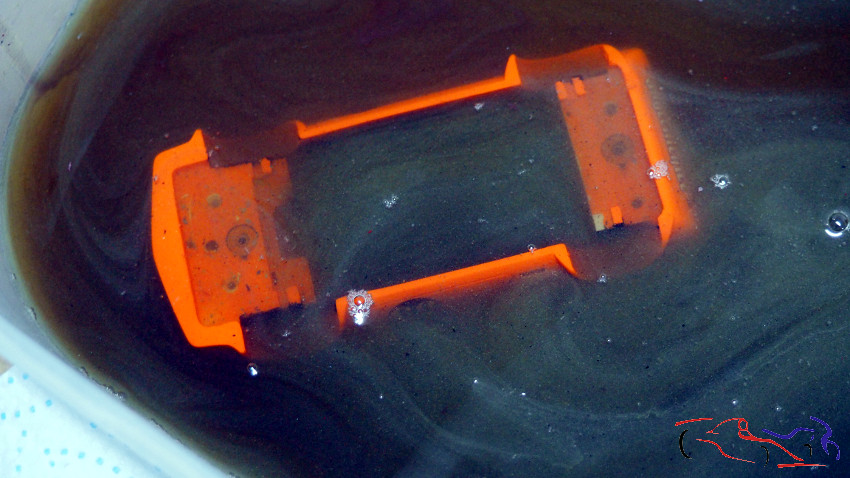 Y si bien el Escort se le fue muy bien la pintura, tuve problemas con el WV porque no se eliminaba la pintura.
And while the Escort took the paint very well, I had problems with the WV because the paint would not come off.
Por lo que decidí a meterlo en un baño de Alcohol Isopropílico y Acetona (60%/40%), y se quitó mucho. Pero también debilitó la resina, comiéndose algunas partes, como puede verse en los pilares de la carrocería:
So I decided to put it in a bath of Isopropyl Alcohol and Acetone (60%/40%), and a lot of it came off. But it also weakened the resin, eating away some parts, as can be seen on the body pillars:
Pero lo primero sería imprimarlos para sacar los detalles. Aquí les tenemos ya listos para imprimarse:
But the first thing to do would be to prime them in order to get the details out. Here they are ready to be printed: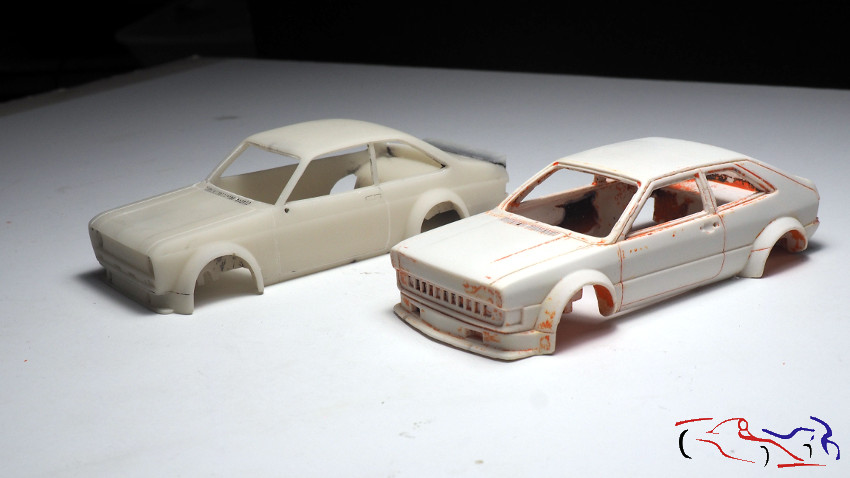 Vemos el Wv imprimado, con los fallos de los baños en los pilares, que hay qye repasar con masilla:
We can see the primed Wv, with the faults of the bathrooms on the pillars, which need to be putty-finished:
Sin embargo, el Escort está perfecto, listo para pintar de blanco:
However, the Escort is perfect, ready to be painted white:
Voy a aprovechar procesos con otros kits para avanzar con éstos dos. Gracias por ver y comentar!
I'm going to take advantage of processes with other kits to move forward with these two. Thanks for watching and commenting!