Nueva entrada con nuevo proyecto y con kit recién salido al mercado: Lancia Delta S4 de la firma Beemax a escala 1/24. Un kit muy deseado ya que como icono de los GrB, el kit solo existía en fabricaciones de resina, no muy accesibles a todo los modelistas. Aquí tenéis la caja:
New entry with new project and with recently released kit: Lancia Delta S4 of the firm Beemax at scale 1/24. A very desired kit because it is an icon of the GrB, and because the kit only existed in resin manufacturing, not very accessible to all the modelers. Here is the box:
Pero yo no la voy a hacer de Martini, si no Marlboro, coche que condujo Juan Carlos Oñoro en el Campeonato de rallyes de tierra en el año 1987, y que ganó. No confundir con el coche que corrió los dos años siguientes con Gustavo Trelles, en el mismo campeonato.
El coche era la unidad #225 que pilotó Marku Alen en el año 1986, con el que ganó en el rallye San Remo. Aquí tenéis una foto con la decoración elegida:
But I'm not going to do the Martini livery, Marlboro one will be the choice, car that led Juan Carlos Oñoro in the Spanish gravel rallye Championship in 1987, and he won it. Not to be confused with the car that ran the following two years with Gustavo Trelles, in the same championship.
The car was the unit # 225 that Marku Alen piloted in 1986, which he won in the San Remo rally. Here you have a photo with the chosen livery: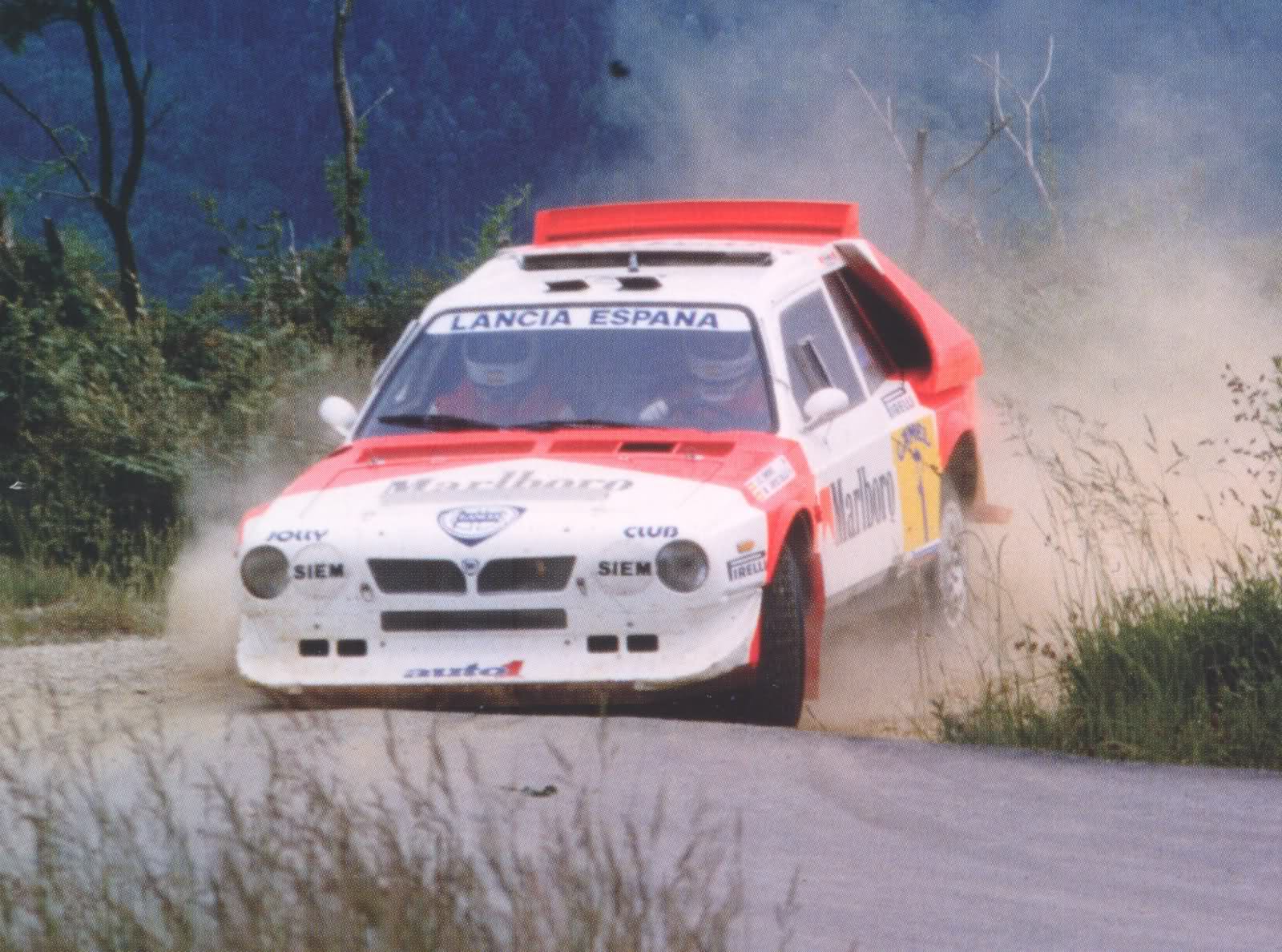 Al ser una novedad, paso a mostraros las grapas que vienen en la caja:
Being a novelty, I show you the staples that come in the box: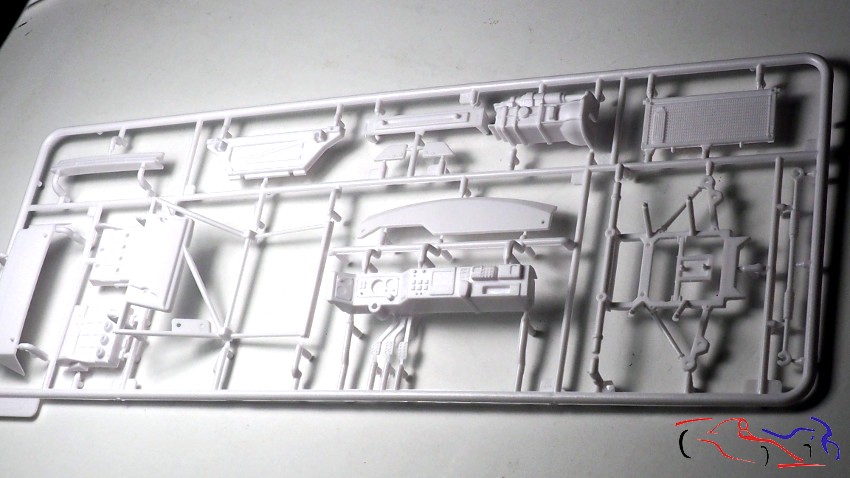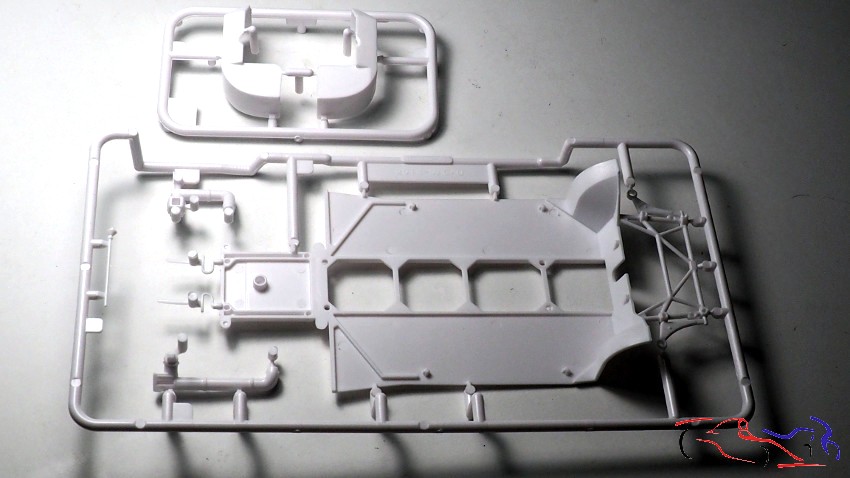 En la siguiente, podemos ver las grapas cromadas, incluyendo los aros de las ruedas traseras:
In the following picture, we can see the chrome staples, including the rear wheel rings: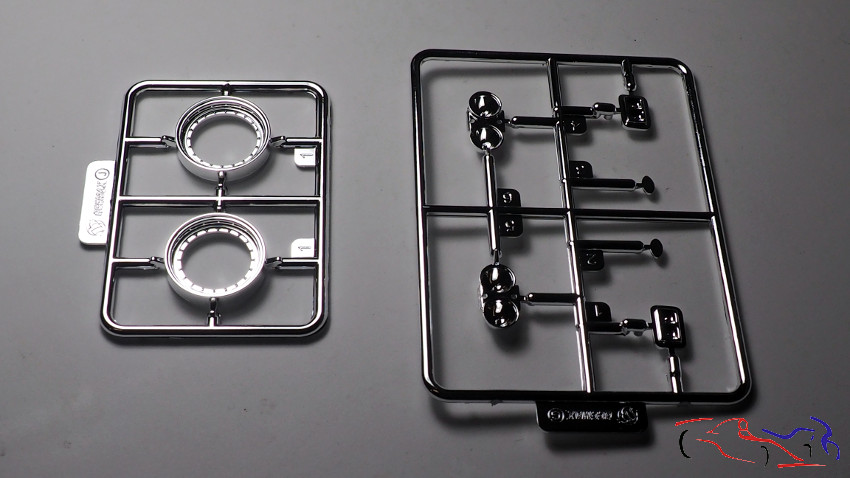 Y por supuesto, las llantas, punto flaco del kit puesto que no recuerdan mucho a las que utilizaba el coche en el mundial de rallyes:
And of course, the tires, the skinny point of the kit since they do not remember much the ones used in the world rally championship: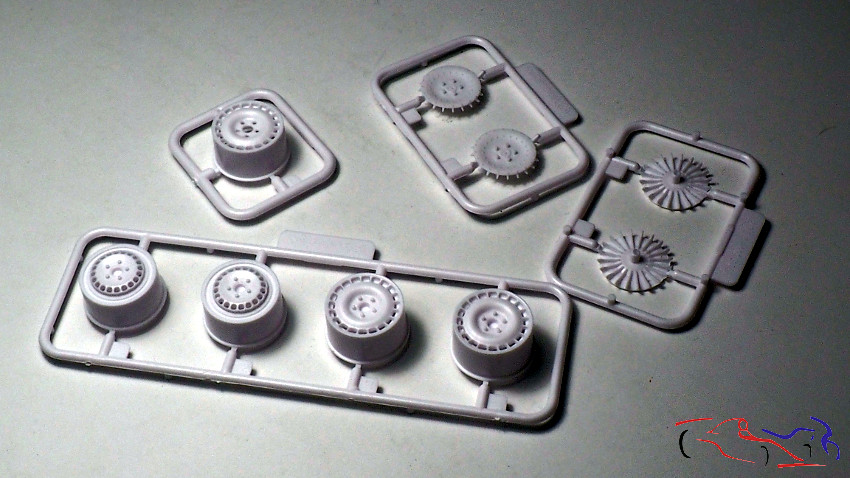 Los neumáticos, que curiosamente vienen con una capa de goma en el interior, siendo lógicamente del molde. Se pueden retirar sin problemas:
The tires, which curiously come with a layer of rubber on the inside, being logically from the mold. They can be removed without any problems: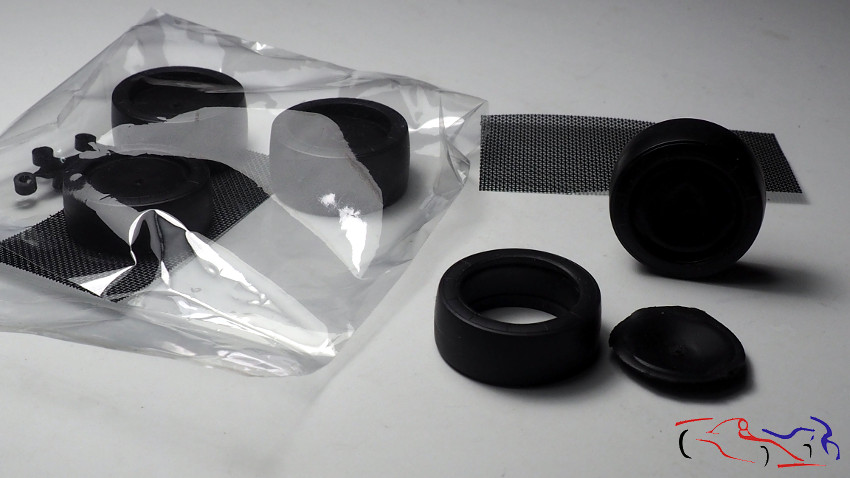 Los cristales: vienen con buen detalle
The crystals: they come in good detail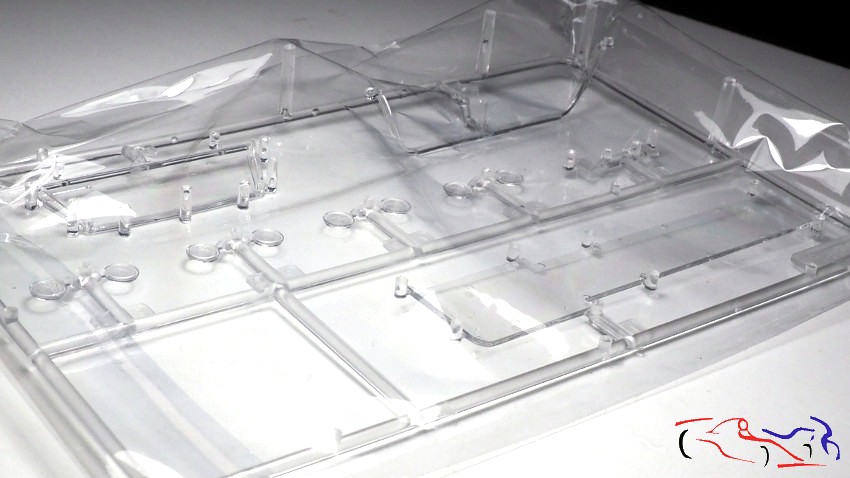 Y las piezas de la carrocería. El kit tiene la posibilidad de tener abierto el frontal y el capot del motor, para poder ver su interior:
And the body parts. The kit has the possibility of having the front and the hood of the engine open, to be able to see its interior: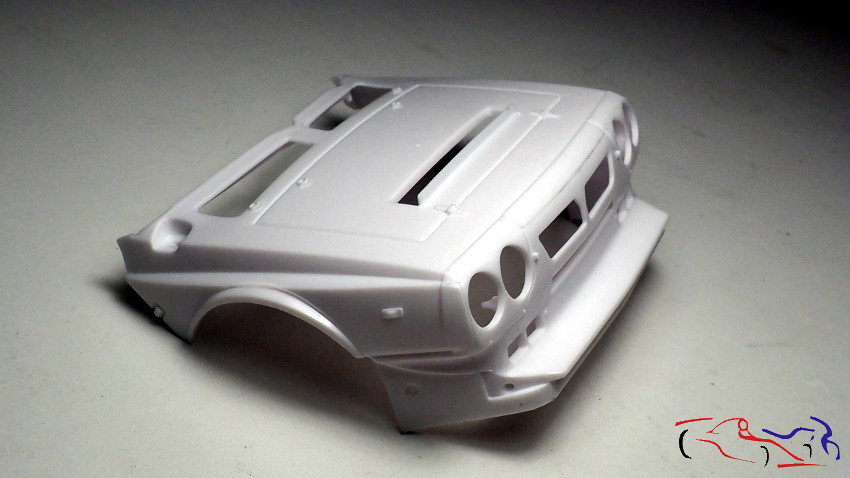 En si, las piezas vienen muy bien, con bastante detalle que por supuesto se pueden detallar para incrementarlo. También hay que decir, que tienen alguna rebaba que otra que tendremos que eliminar. En las siguiente foto, vemos un pre-montaje de la carrocería donde se ven sus buenas formas:
In itself, the pieces come very well, with enough detail that of course you can detail to increase it. It must also be said that they have some burr  that we will have to eliminate. In the following photo, we see a pre-assembly of the bodywork where its good forms are seen:
Pasamos a las calcas, con la hoja de las que se colocan en el borde de los cristales, pero que se pueden pintar perfectamente, para que la calca no anule los remaches de los cristales que viene con buen detalle:
We go to the decals, with another sheet of those that are placed on the edge of the crystals, but that can be painted perfectly, so that the decay does not cancel the rivets of the crystals that comes with good detail: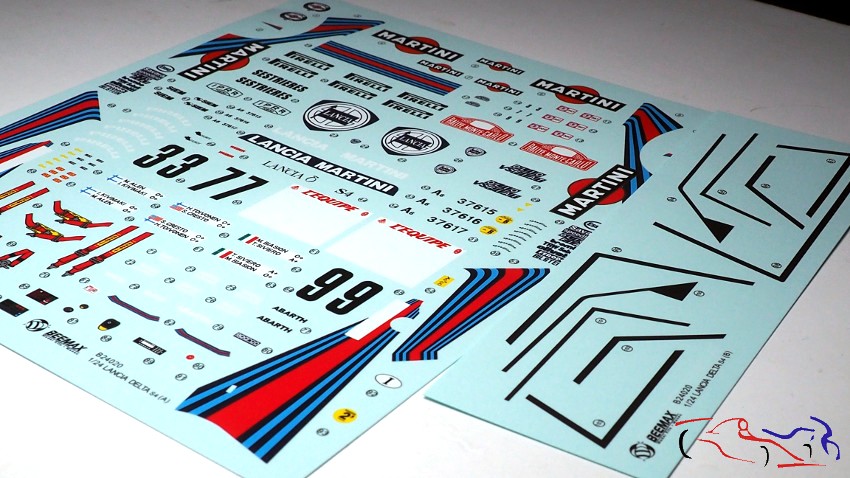 A su vez, el kit tiene una bolsa complementaria, que se compra aparte, con fotograbados y calcas de carbono y kevlar, totalmente recomendada:
Also, the kit has a complementary bag, which is purchased separately, with photoetches and carbon and kevlar decals, fully recommended: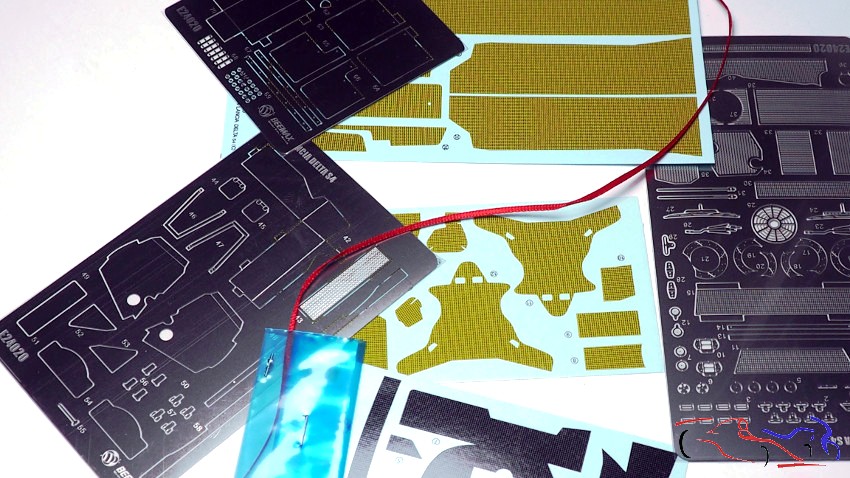 Y ahora, os muestro lo que aporto para hacer esta versión:
Llantas copia del kit Profil24, realizadas por nuestro amigo Fanalone, al que le doy todas mis gracias!!
Calcas realizadas por encargo a Artecnodecals, que las tenía preparadas para el kit de Profil24, y que utilizaré en éste.
And now, I show you what I contribute to make this version:
Tires copy of Profil24 kit, made by our friend Fanalone, to whom I give my thanks!

Decals made by my order to Artecnodecals, who had them ready for the Profil24 kit, and which I will use in this one.
Y para empezar, sacamos de las grapas, todas las piezas que entran a formar parte de los ejes y así, poder probar las llantas nuevas:
And starting, we take out all the parts that form part of the axles from the staples and thus, be able to test the new tires:
Aquí vemos el pre-montaje del eje delantero, incluyendo un neumático de de Renaissance que tenía por la caja de test de compras. Ya veremos cual usaré!
Here we see the pre-assembly of the front axle, including a Renaissance tire that had for the shopping test box. We'll see what I'll use!
Como se ve, el kit tiene buenos detalles:
As you can see, the kit has good details:
Y aquí el tren trasero:
And here is the rear train: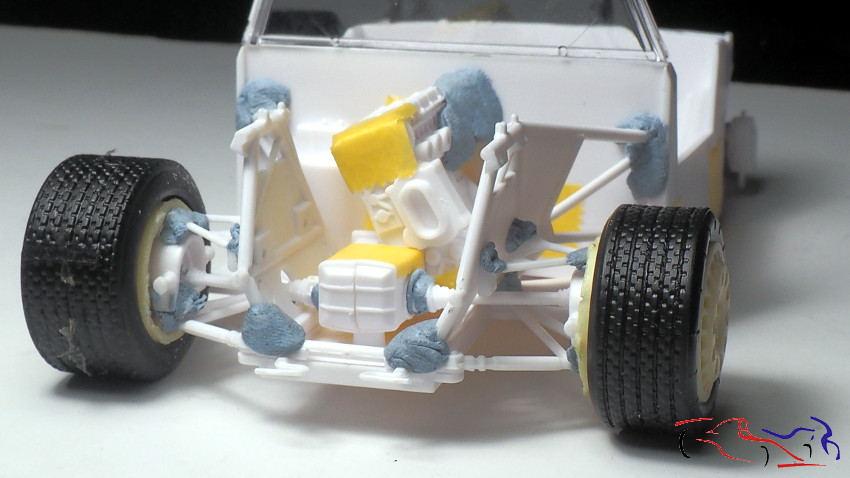 Y cuando ponemos la carrocería, el tren delantero queda bastante bien:
And when we addut the body, the front part is pretty good: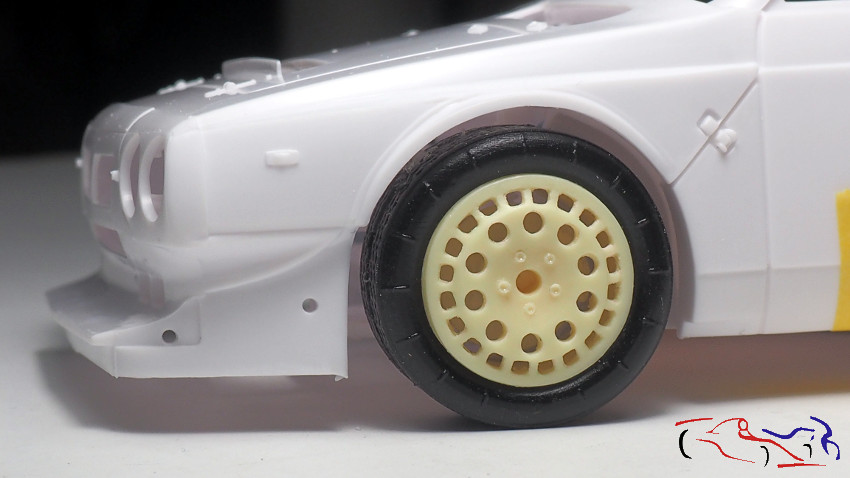 En cuanto al trasero, la goma debe ser mas estrecha y más metida hacia dentro ya que es un coche con especificaciones de tierra:
As for the rear part, the rubber should be narrower and more tucked in, as it is a car with ground specifications: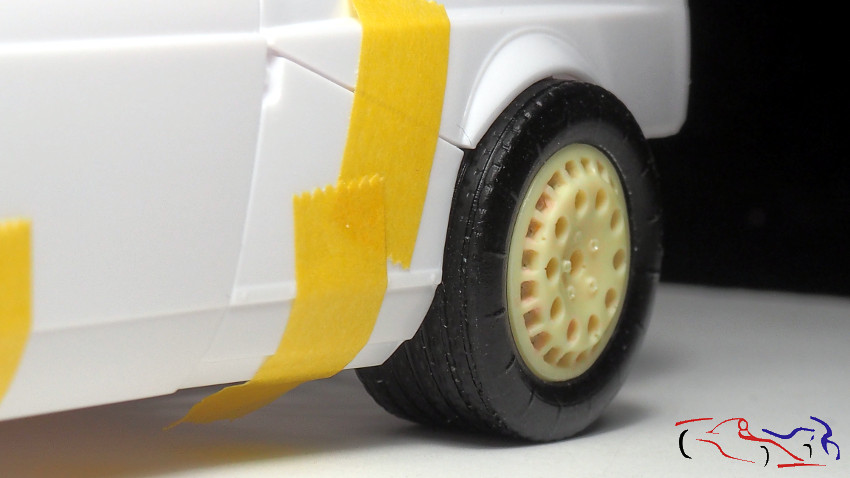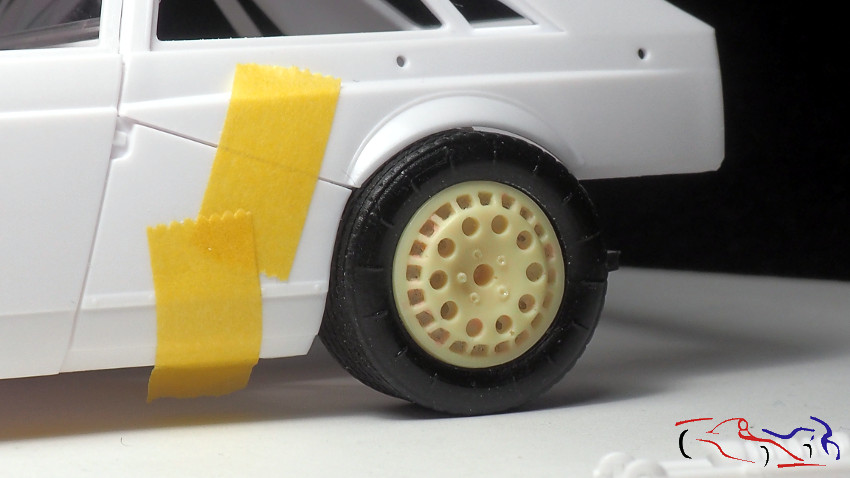 En la siguiente foto, vemos su aspecto general, el cual me convence, y la altura del coche, así como las gomas, lo dejaré para más adelante. El primer test es válido!!
In the next photo, we see its general appearance, which convinces me, and the height of the car, as well as the tires, I'll leave it for later. The first test is valid!
Thanks for viewing and commenting!!!