Continuamos con el Manta amarillo y blanco de Carlos Sainz. Lo dejamos pintado, y el siguiente paso es poner las calcas, de la marca Decalcas. Empezamos con las líneas doradas que limitan el borde amarillo, siguiendo las indicaciones del fabricante, de la número 29 a la 36.
We continue with Carlos Sainz's yellow and white Manta. We leave it painted, and the next step is to put the decals, of the brand Decalcas. We start with the golden lines that limit the yellow border, following the manufacturer's instructions, from number 29 to 36.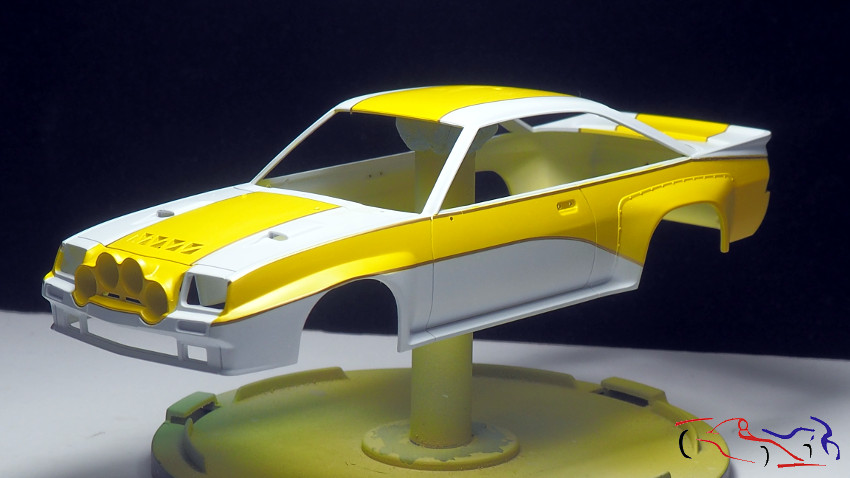 Si bien las primeras son las del techo y se colocan bien, para las laterales que van por encima del amarillo, yo pondría primero primero la trasera, y a partir de ésta, las de los laterales que son más largas y si es necesario, cortar el sobrante delante.
While the first ones are those of the roof and are well placed, for the sides that go above the yellow, I would first put the back first, and from this, those of the sides that are longer and if necessary, cut the leftover in front.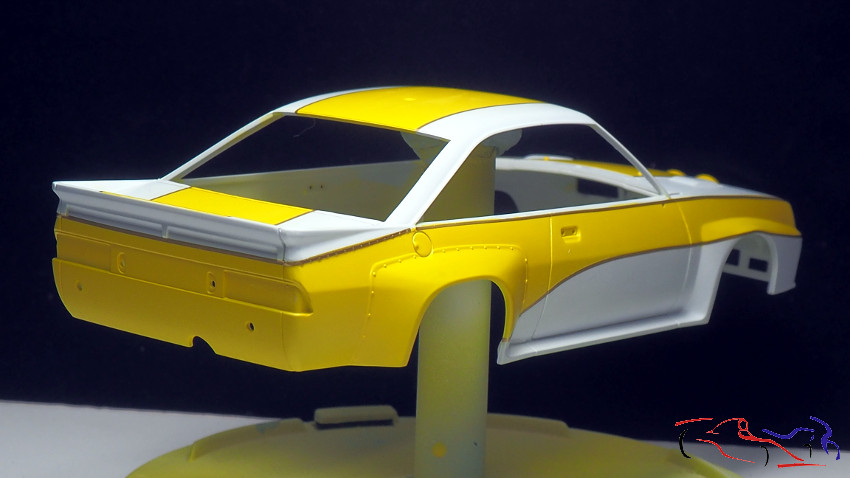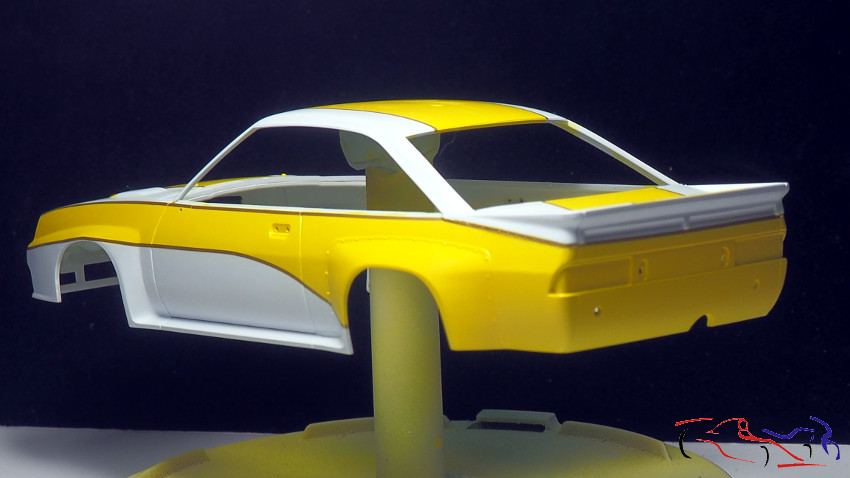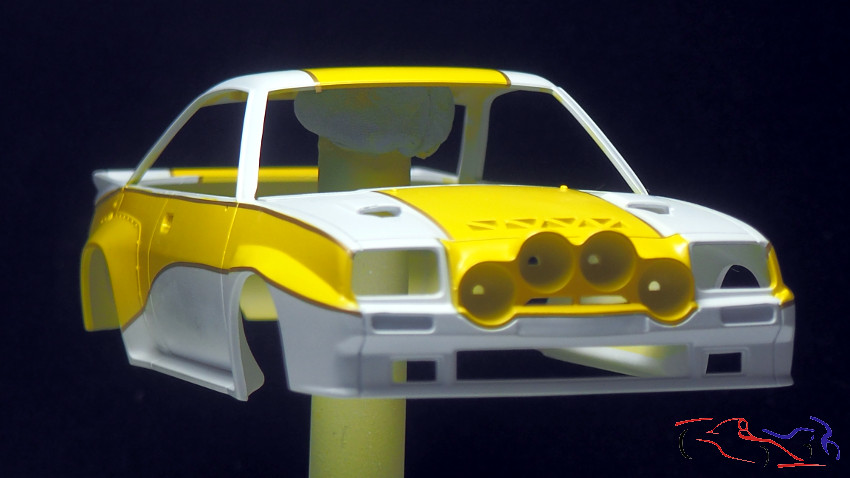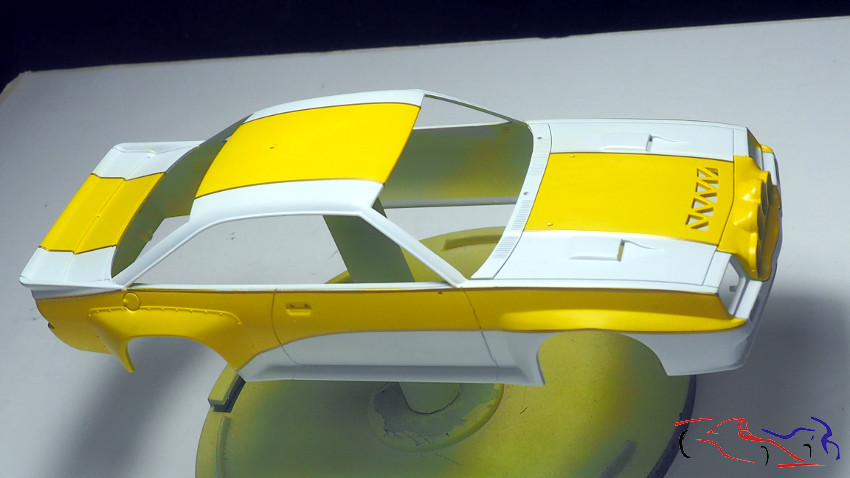 Una vez colocadas, pasamos a poner el resto cuidando la posición de las mismas respecto a fotos o al propio esquema del fabricante. Y el resultado es sinceramente, excelente!!
Once placed, we put the rest of them taking care of their position regarding photos or the manufacturer's own scheme. And the result is honestly, excellent!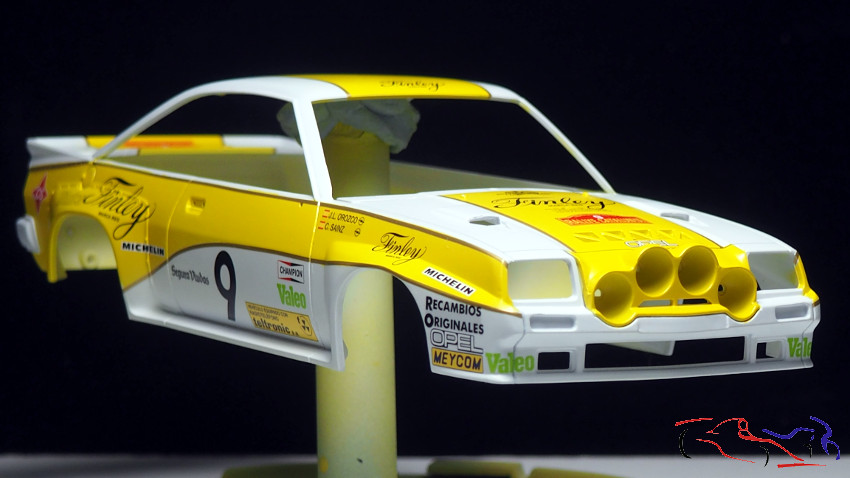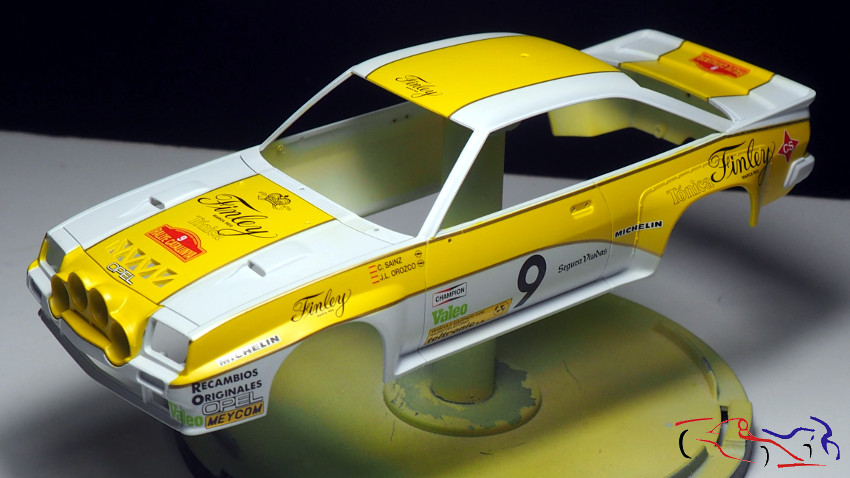 En cuanto a la calidad de las calcas, decir que Decalcas ha hecho muy buen trabajo porque son muy buenas, finas y duras, y que no necesitan de líquidos para ayudar a su colocación. Solo es necesario agua, un bastoncillo de oídos y el secador para acelerar su colocación.
As for the quality of the decals, say that Decalcas has done a very good job because they are very good, thin and hard, and that they do not need liquids to help their placement. Only water, a swab and the hair dryer are needed to speed up its placement.
Decir que no utilicé ningún barniz previo a las calcas puesto que la superficie estaba muy lisa, suficiente para aplicarlas sin problemas.
Si queréis  verlo, he filmado un pequeño vídeo que ha subido a YouTube el fabricante de las calcas. Esperoq ue os guste!!
Lo próximo, será continuar con el chasis y cockpit, y por supuesto, lacar la carrocería!!
Gracias por ver y comentar!!
Just to say that I did not use any varnish previous to the decals since the surface was very smooth, enough to apply them without problems.
If you want to see it, I filmed a small video that has been uploaded to YouTube by the manufacturer of the decals. I hope you like it!!
The next thing, will be to continue with the chassis and cockpit, and of course, lacar the body!
Thanks for viewing and commenting!!