Continuamos con el Lancia Delta S4, y aquí os presento el estado del motor, con las piezas simplemente puestas sin pegar para verificar su ajuste:
We continue with the Lancia Delta S4, and here I present the state of the engine, with the parts simply placed without pasting to verify its adjustment: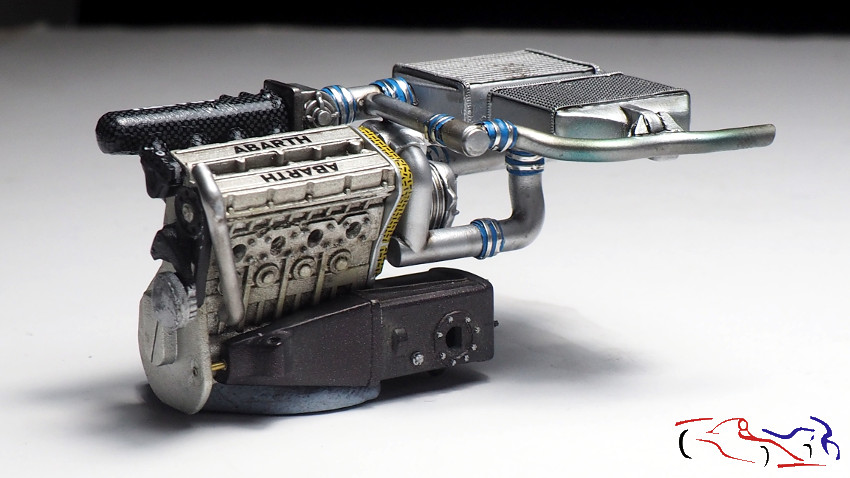 Pero demos unos pasos atrás, y veamos el proceso qeu he realizado para llegar a ello!
En principio, decidí cambiar las salidas de los escapes, sustituyendo las piexzas de plástico del kit por tubos de latón, los cuales tenía que adelgazar la anchura de sus bordes. Para ello, utilicé la fresadora con la punta que véis en la foto:
But let's take a few steps back, and let's see the process I've done to get to it!
In principle, I decided to change the exhaust outlets, replacing the plastic pieces of the kit with brass tubes, which had to thin the width of their edges. To do this, I used the milling machine with the tip you see in the photo: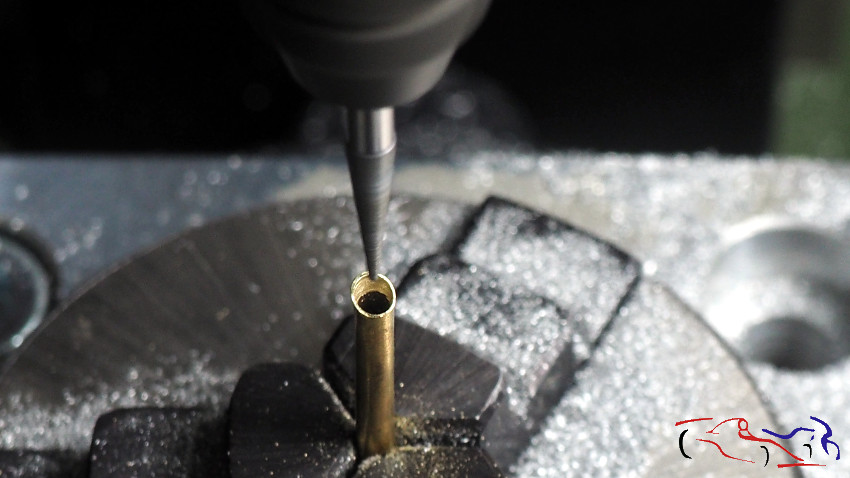 Y una vez hecha, la pegué al tubo de escape. Aquí lo véis comparándola con el original:
And once done, I glued it to the exhaust pipe. Here you see it comparing it with the original: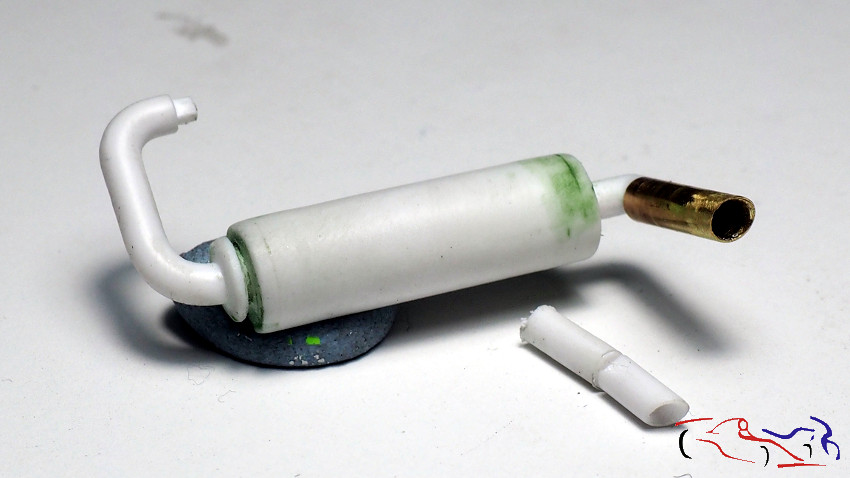 Y como tenía otra salida de escape, pero más pequeña, la sustituí de la misma manera!
And since I had another escape exit, but smaller, I replaced it in the same way!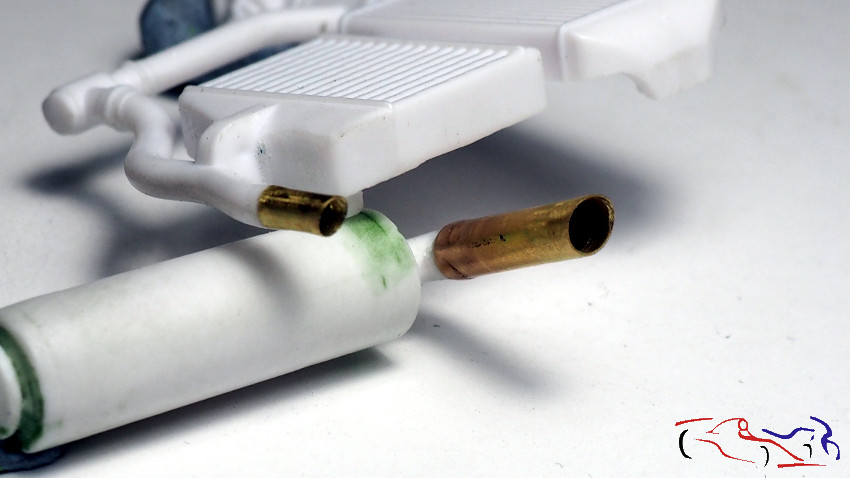 Aquí véis otra vista del escape, y la soldadura que he eñadido en la unión.
Here you see another view of the exhaust, and the welding that I have built in the joint.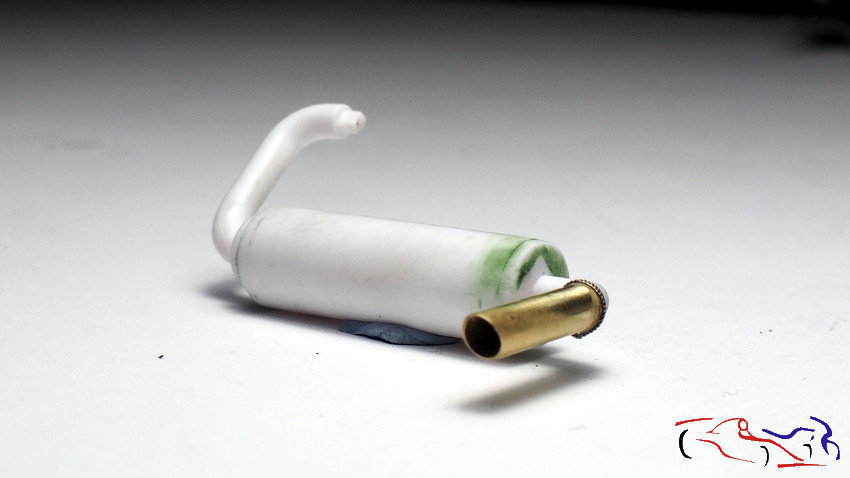 También le añadí los fotograbados del TK de HD, que es muy bueno con muchos detalles para mejorar el kit:
I also added the photoetches of the HD TK, which is very good with many details to improve the kit: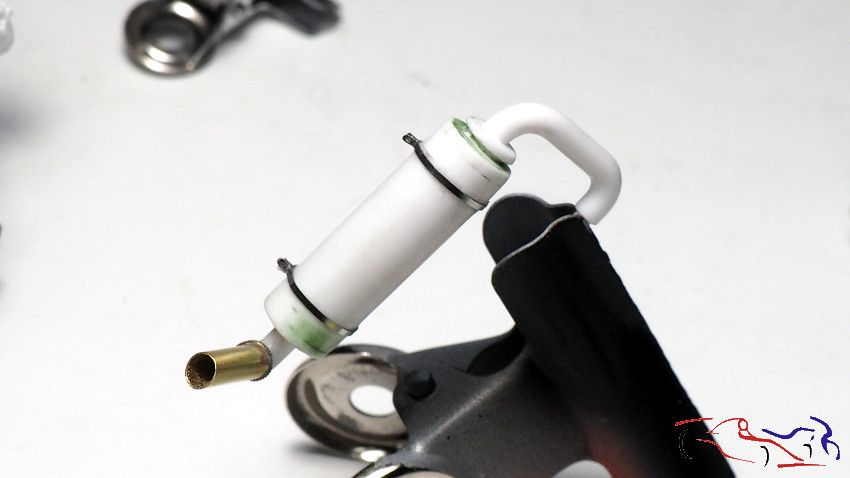 Y pasamos a la pintura. Una vez imprimado con Gravity, lo pinto con Metal Aluminio de Zero:
And we move on to painting. Once primed with Gravity, I painted it with Zero Aluminum Metal: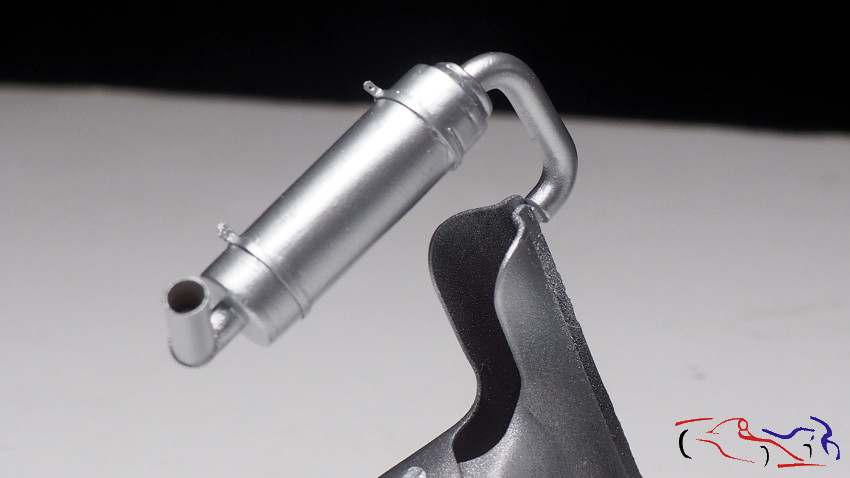 Un poco de amarillo y azul traslúcidos, seguidos de metal quemado, todos de Alclad:
A little yellow and blue translucent, followed by burnt metal, all of Alclad: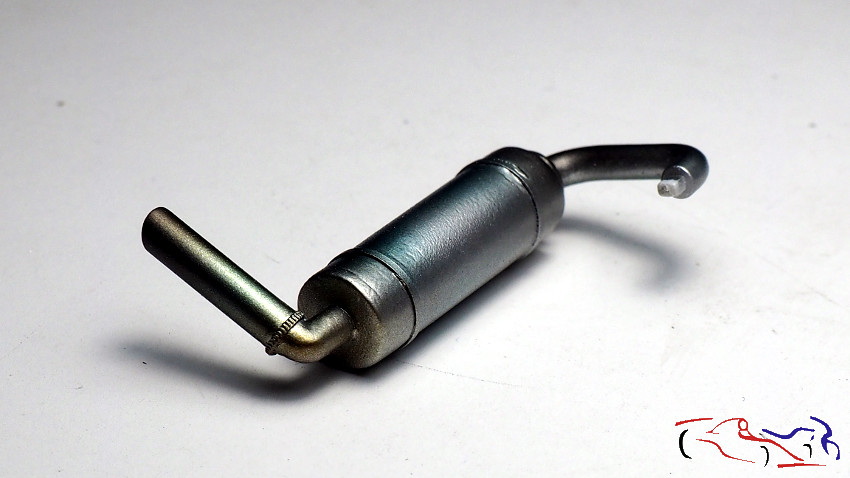 Y para terminar esta fase, color sepia también de Alclad:
And to finish this phase, sepia color also from Alclad: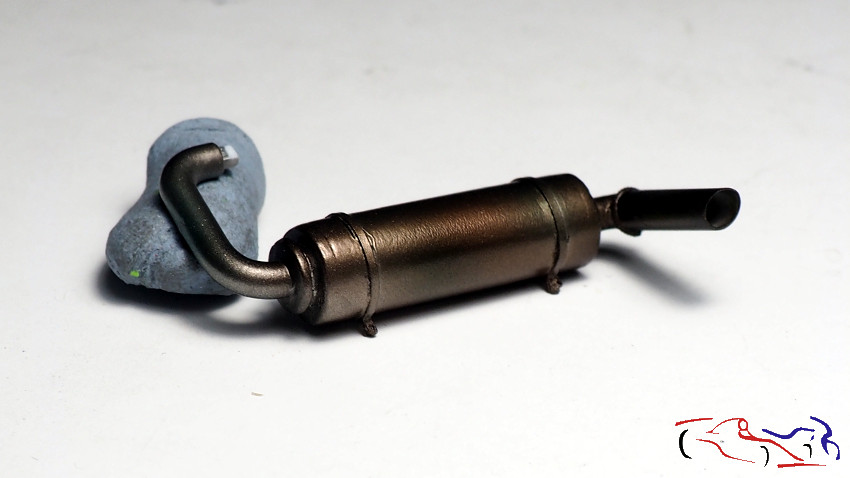 Continuamos poniendo mas fotograbados. Ahora le toca el turno a los dos grandes radiadores traseros. Le pego las rejillas, dos de arriba y otras dos en la pate inferior, y las correspondientes soldaduras de TM, que también utilicé en el escape:
We continue to put more photogravures. Now is the turn of the two large rear radiators. I hit the grilles, two from the top and two from the bottom pate, and the corresponding TM welds, which I also used in the exhaust: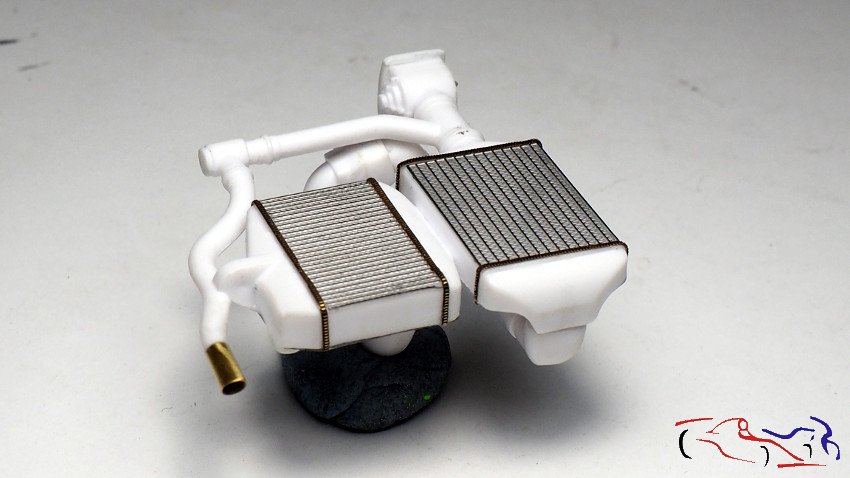 Y cuando enseñé esta foto a algunos colegas, me dijeron que la fijación del tubo era poco real, por lo que busqué fotos y vi que tenía unas fijaciones extras. Las hice con lámina de metal, cortada y limada para que se adaptara a la curva del tubo. En el centro le puse una cabeza de tornillo de  MasterClub:
And when I showed this photo to some colleagues, they told me that the fixation of the tube was unreal, so I looked for photos and saw that I had some extra fixations. I made them with sheet metal, cut and file so that it would adapt to the curve of the tube. In the center I put a screw head of MasterClub: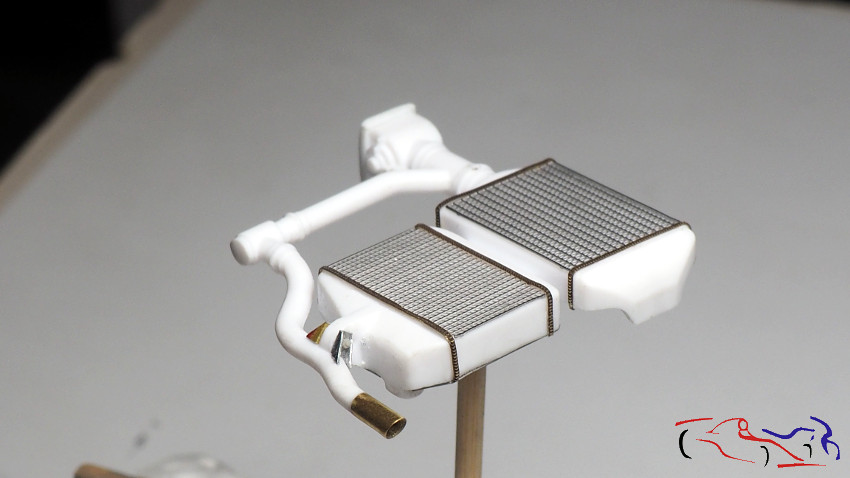 Y pasamos a pintarlo. Después de la imprimación Gravity, le di un par de manos de Aluminio mate de Vallejo, que más adelante, tendré que matizar más:
And we go on to paint it. After the Gravity primer, I gave him a pair of Vallejo Matte Aluminum hands, which later, I will have to clarify more: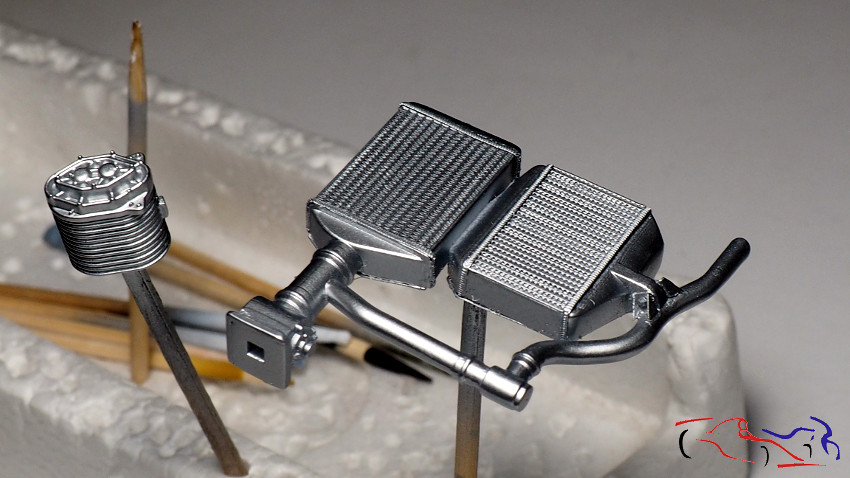 Y le doy los mismos colores que al tubo de escape, amarillo y azul transparentes, y hierro quemado, todos de Alclad:
And I give it the same colors as the exhaust pipe, transparent yellow and blue, and burnt iron, all of Alclad: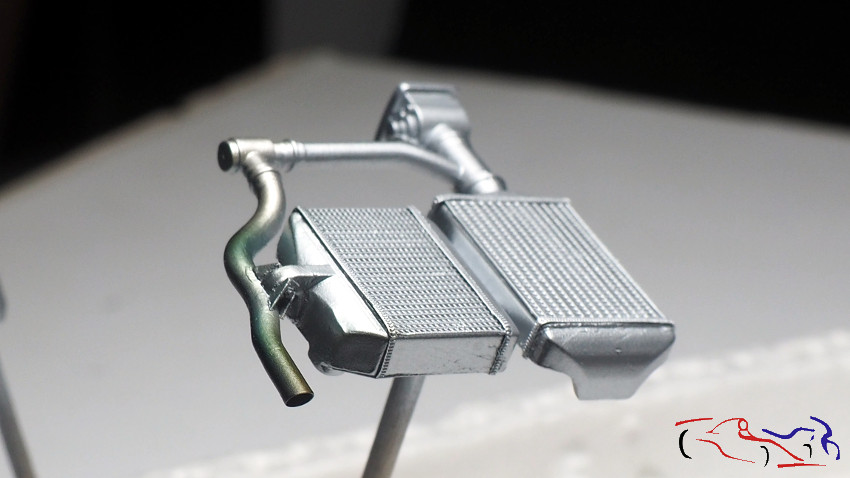 Enmascaramos el extremo para pintarlo de gris metálico de Zero:
We mask the end to paint it from metallic gray of Zero: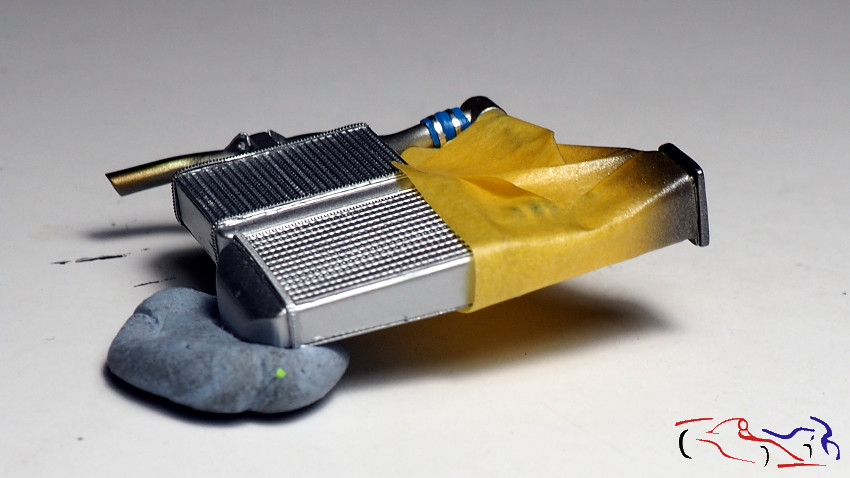 Otra pieza que va con el mismo tratamiento que la de los radiadores, y que va situada debajo de éstos:
Another piece that goes with the same treatment as that of the radiators, and that goes under them: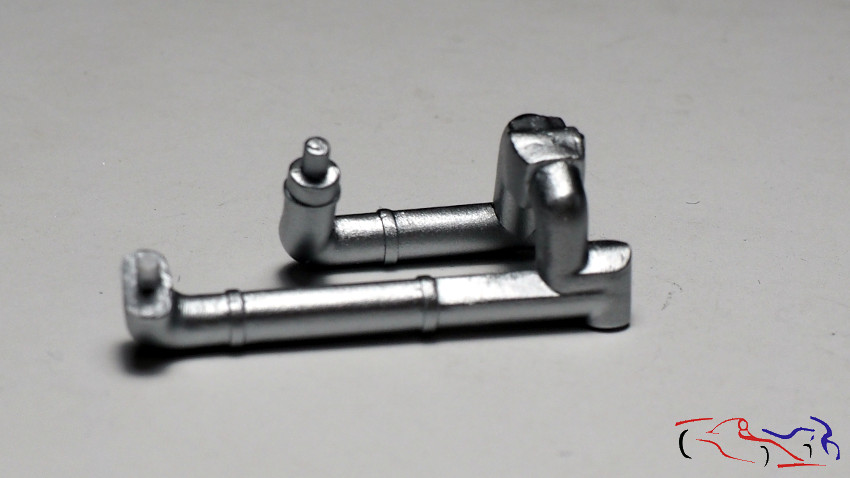 Aquí las vemos juntas:
Here we see them together: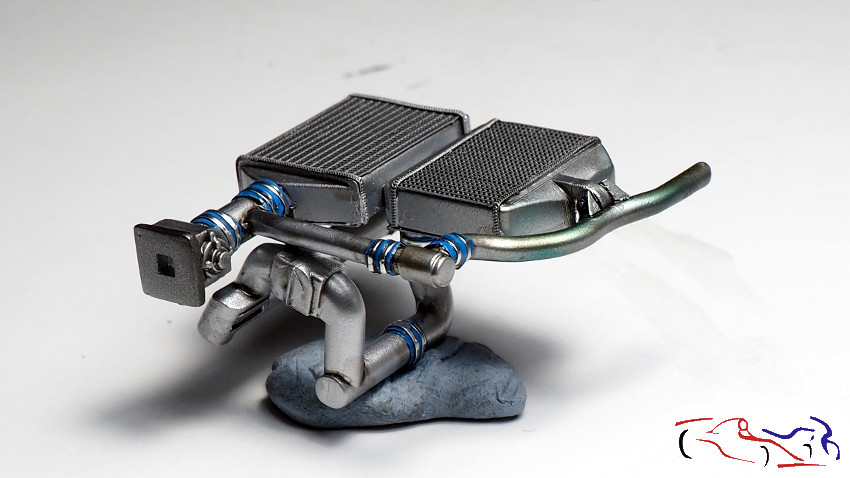 Para cambiar un poco,os muestro el proceso de una pieza que es la fijación del cable del acelerador. Va situada en la parte derecha en orden de marcha, y colocada en la pieza negra de fibra que pone el rótulo de Abarth. Primero marco las lineas e corte exteriores y las de los dobleces, así como los agujeros, todo sobre la lámina grande:
To change a little, I show you the process of a piece that is the throttle cable fixing. It is located on the right side in running order, and placed on the black piece of fiber that puts the Abarth label. First I mark the outer lines and cut and those of the folds, as well as the holes, all on the large sheet: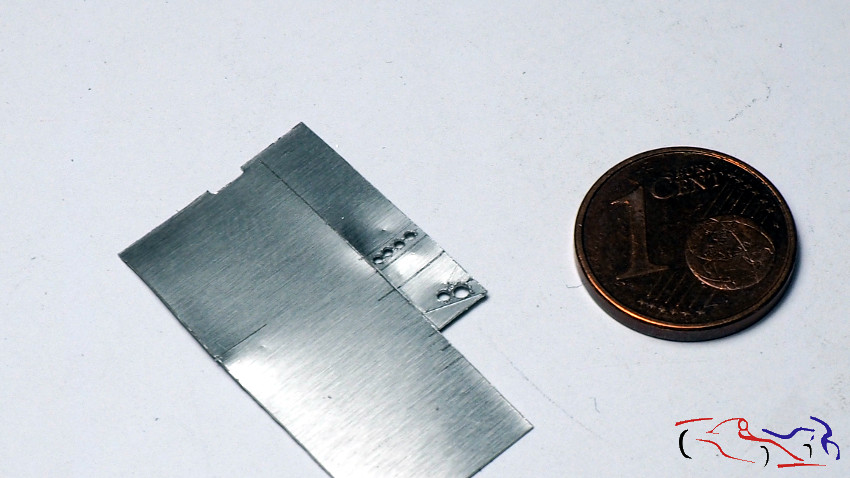 Una vez hecha, la corto y doblo. En este caso, cambié de lata de refresco a latón, y así no tenía que pintarla:
Once done, I cut it and fold it. In this case, I changed from soda can to brass, and so I didn't have to paint it: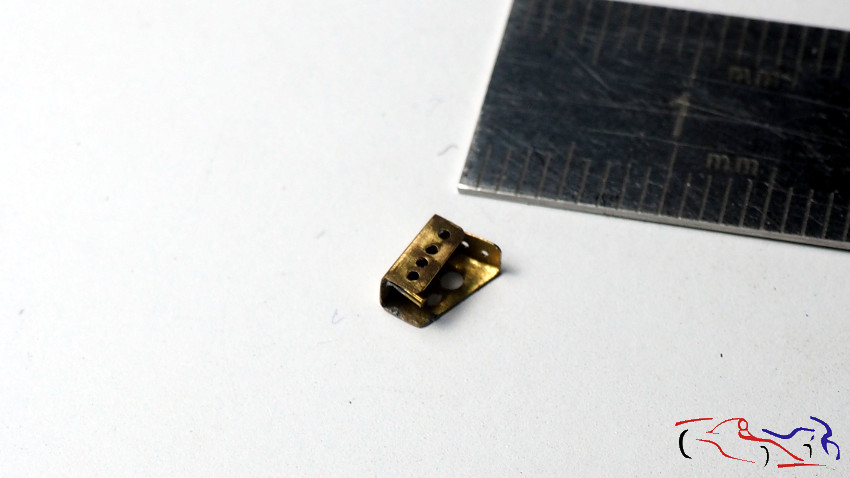 Pasamos a otra pieza, también con salida de escapes, en la que le cambiamos la parte final, por otra de plástico, pero con el borde adelgazado:
We pass to another piece, also with leakage outlet, in which we change the final part, by another piece of plastic, but with the thinned edge: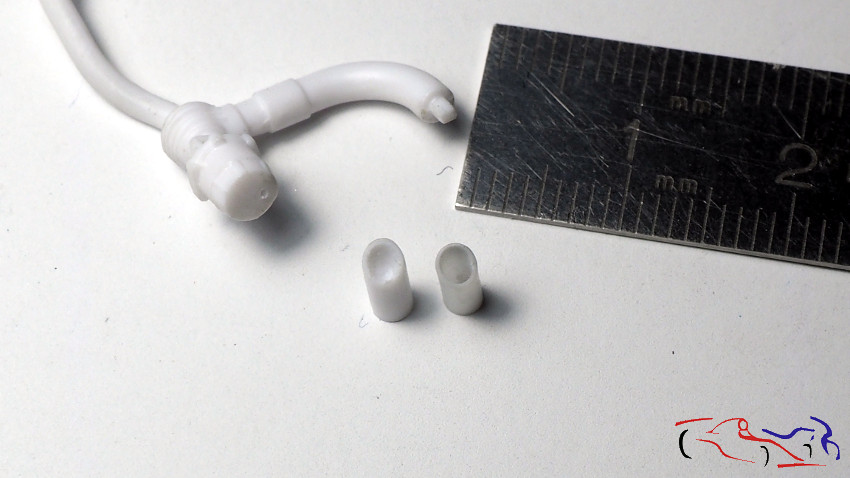 Imprimamos con Gravity y pintamos con Metal Aluminio de Zero:
We print with Gravity and paint with Zero Aluminum Metal: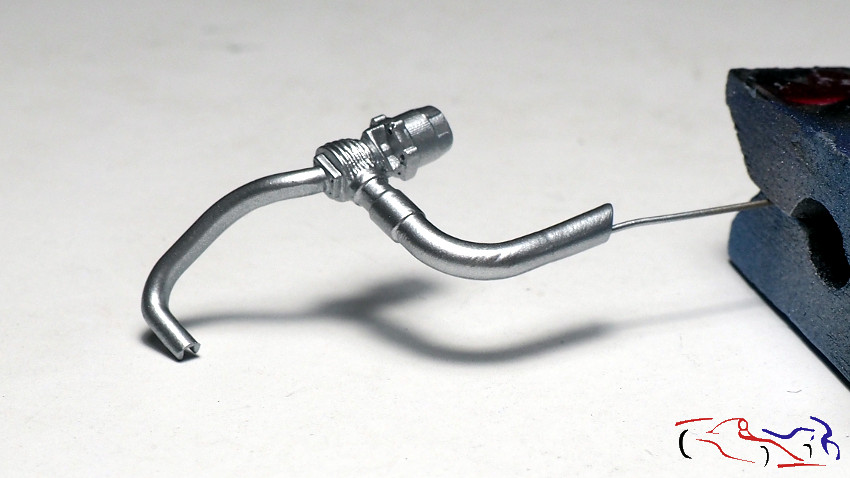 Un poco de amarillo y azul transparentes, y el metal quemado de Alclad:
A bit of transparent yellow and blue, and the burnt metal of Alclad: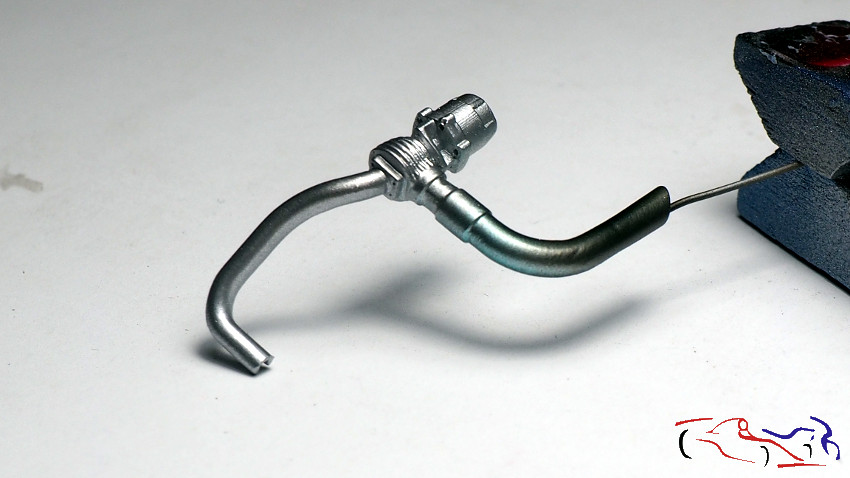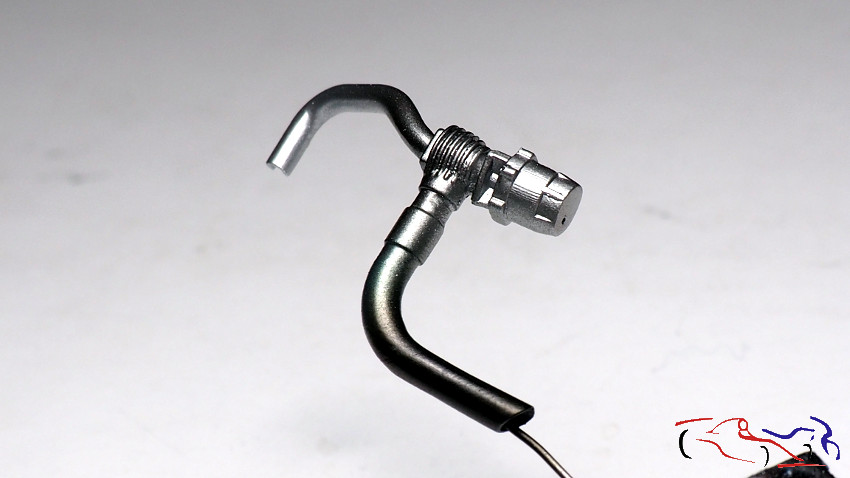 Enmascaramos otra pieza ara pintarla de gris metálico de Zero:
We will mask another piece to paint it of metallic gray of Zero: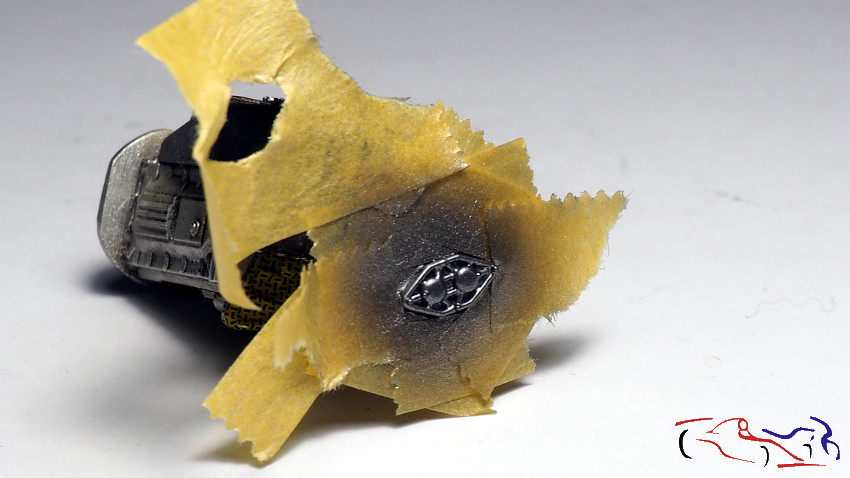 Y aquí, la pieza ya pegada en el motor…
And here, the piece already glued in the engine …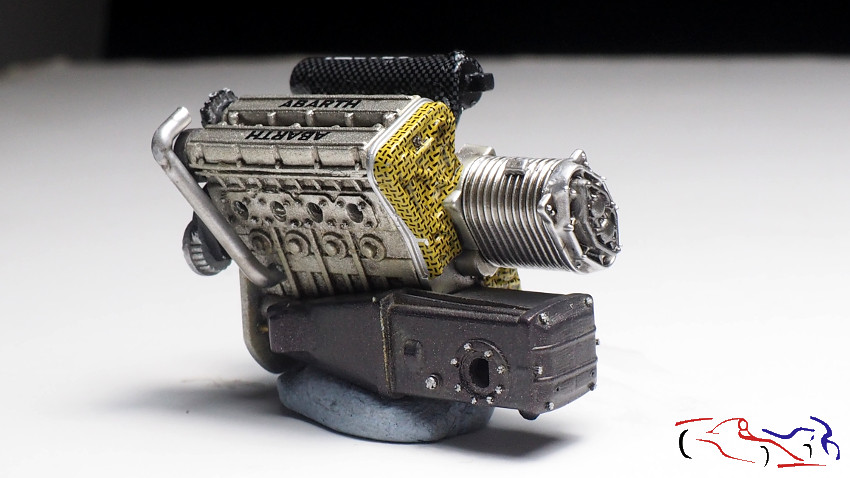 …a la que le hemos dado unos lavados de Humo acrílico diluido:
… to which we have given some washings of diluted acrylic smoke: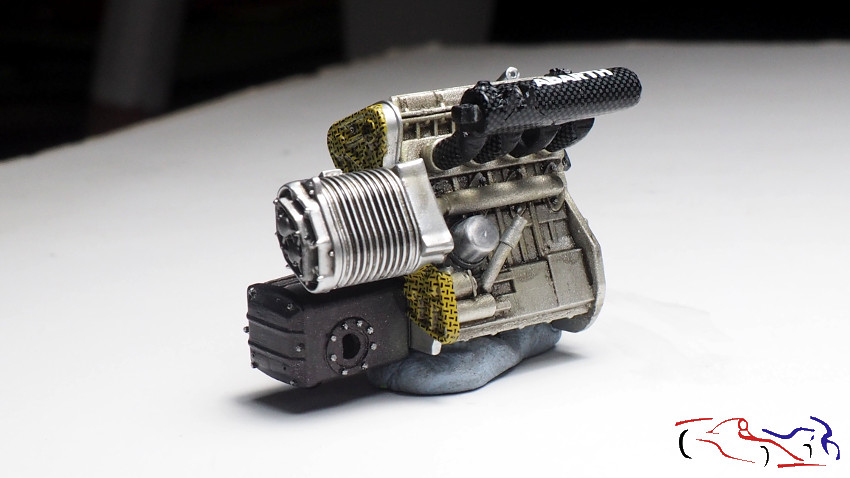 Para terminar de detallar las piezas de los radiadores, hago previamente una prueba para testear los manguitos que unen los tubos. Sobre lámina metálica autoadhesiva, corto varias tiras, elimino las intermedias, las imprimo y pinto de azul Ligier de Zero. Después las pego en sus sitios,y le añado dos tiras muy finas del mismo material a modo de abrazaderas, siendo este el resultado final del test:
To finish detailing the radiator parts, I previously made a test to test the sleeves that join the tubes. On self-adhesive metal sheet, I cut several strips, remove the intermediate ones, print them and paint Ligier de Zero blue. Then I paste them in their places, and I add two very thin strips of the same material as clamps, this being the final result of the test: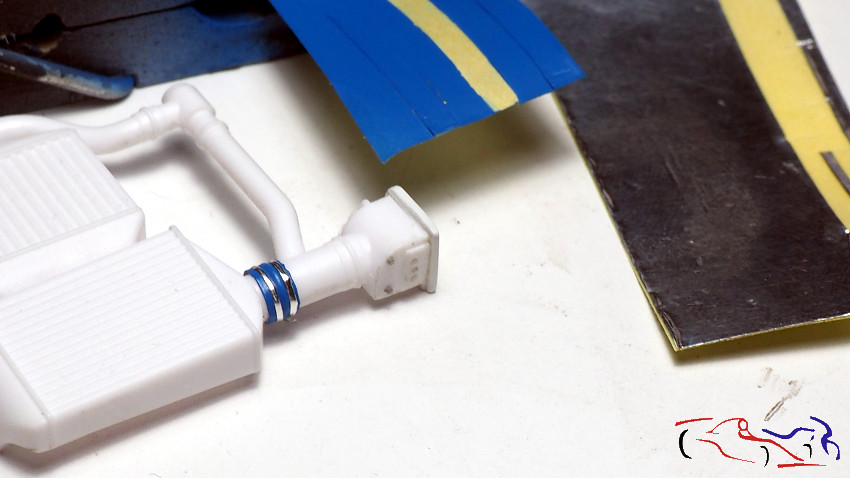 Y como vi que era buena, lo hago en la totalidad de las abrazaderas existentes. Depsués de ello, un par de lavados de humo diluido, por todos lados, especialmente en los filtros y bordes de la pieza:
And as I saw that it was good, I do it in all existing clamps. After that, a couple of diluted smoke washes, everywhere, especially in the filters and edges of the piece: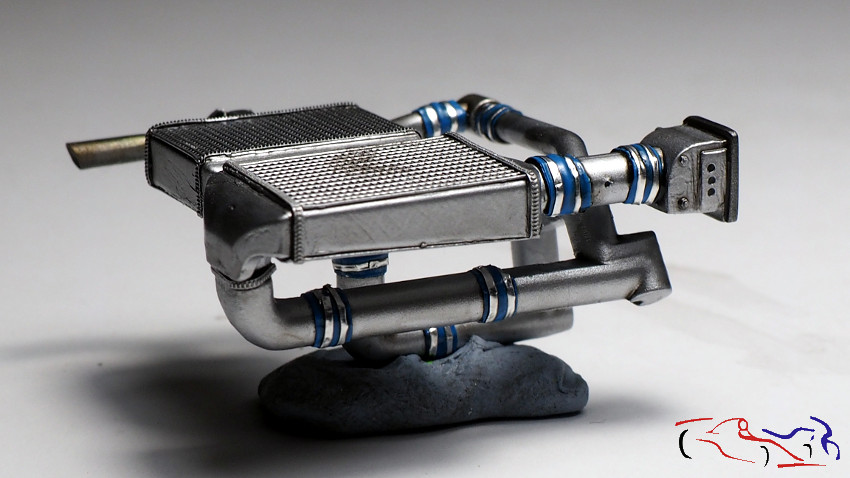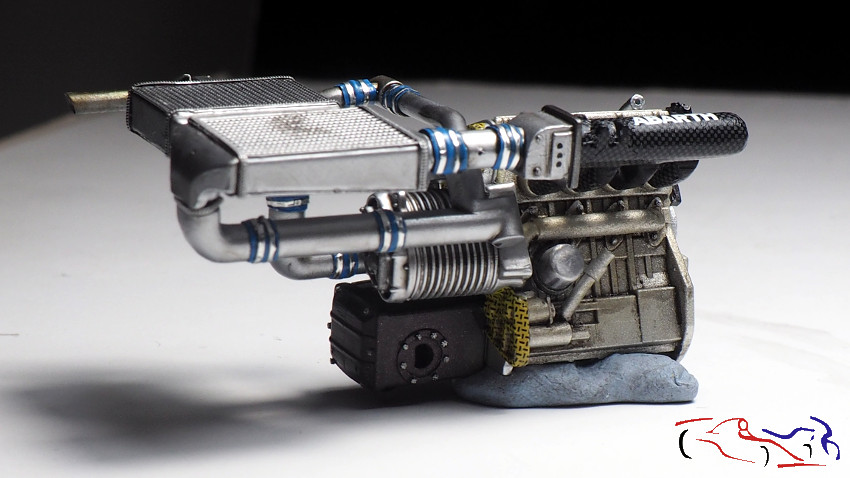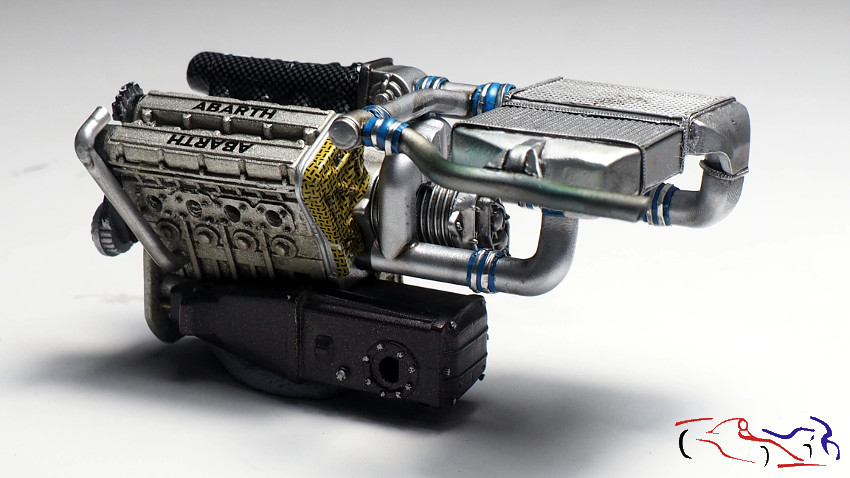 Y para terminar, pego los amortiguadores delanteros que tenía ya pintados, y los comparamos con uno original: la diferencia es clara.
And finally, I glue the front shock absorbers I had already painted, and we compare them with an original one: the difference is clear.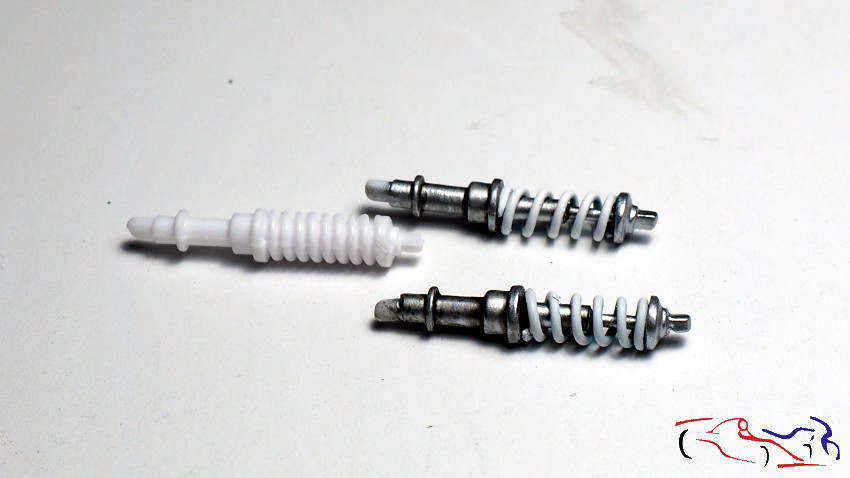 Ahora ya podemos pegar todo el conjunto delantero!! Pero eso será en próximos post!
Gracias por ver y comentar!!
Now we can paste the entire front set !! But that will be in the next post!
Thanks for viewing and commenting!!