Hola a todos, os muestro una conversión de diecast que me apetecía hacer y que la idea es hacerlo rápido sin contemplaciones. Es el Alfa Romeo Alfasud Sprint que pilotó Luis Pérez Sala en 1983, en la copa europea. El coche lo preparó el italiano Bigazzi y tuvo como compañero, al otro Luís, el asturiano Luis Villamil. Ellos dos formaron el equipo español Ducados, aunque hubo un tercer participante llamado Jesus Pareja, en otro equipo privado, preparado por el también italiano Autolodi, así como Emilio Rodriguez Zapico. A mi me traen buen recurdo porque era una copa monomarca en la que todos luchaban por un puesto y se dejaban la piel en el aslfalto, con lo que las carreras eran muy entretenidas. Hasta al punto, que en la última carrera del año, que se celebraba en el Jarama, había dos pilotos con opciones: Luis Perez Sala y un italiano Calamai, y asi lo cuenta Jordi Brunet: "Luís Pérez-Sala llegó a la última carrera del campeonato Alfa Sprint de 1983 con posibilidades de ser campeón, pero una emboscada de los pilotos italianos en el Jarama se lo impidió quedando subcampeón". Yo me acuerdo que estaba a final de recta, y nada más darse la salida, hubo un accidente en la misma recta, del que fue Perez Sala el perjudicado. Fue una lástima!!
Bueno, este modelo es un 1/43, de metal, de una marca china, bien de formas pero como no hay otra, esa es la que tenía que usar. Venía decorado con la versión que corriñó Calamai, el piloto italiano que ganó ese año la copa, y mi idea era re-decorarlo con los colores de Perez Sala, calcas de KitCar43.
Y así está como lo llevo ahora:
Hello everyone, I show you a diecast conversion that I wanted to do and that the idea is to do it quickly without contemplations. It is the Alfa Romeo Alfasud Sprint that Luis Pérez Sala drived in 1983, in the European Cup. The car was prepared by the Italian Bigazzi and had as companion, the other Luis, the Spaniard Luis Villamil. The two formed the Spanish Ducados team, although there was a third participant named Jesus Pareja, in another private team, prepared by the Italian Autolodi, as well as Emilio Rodriguez Zapico. They bring me good recourse because it was a single-brand cup in which everyone fought for a position and left their skin on the asphalt, so the races were very entertaining. To the point, that in the last race of the year, which was held in Jarama, there were two drivers with options: Luis Perez Sala and an Italian Calamai, and Jordi Brunet says so: "Luís Pérez-Sala reached the last race of the 1983 Alfa Sprint championship with the possibility of being a champion, but an ambush by the Italian pilots in Jarama prevented him from being runner-up. " I remember that I was at the end of the straight, and as soon as I left, there was an accident on the same straight, of which Perez Sala was the injured. It was a pity!!
Well, this model is a 1/43, of metal, of a Chinese brand, well of forms but since there is no other, that is what I had to use. It was decorated with the version that Calamai ran, the Italian pilot who won that year the cup, and my idea was to re-decorate it with the colors of Perez Sala, KitCar43 decals.
And this is how I wear it now: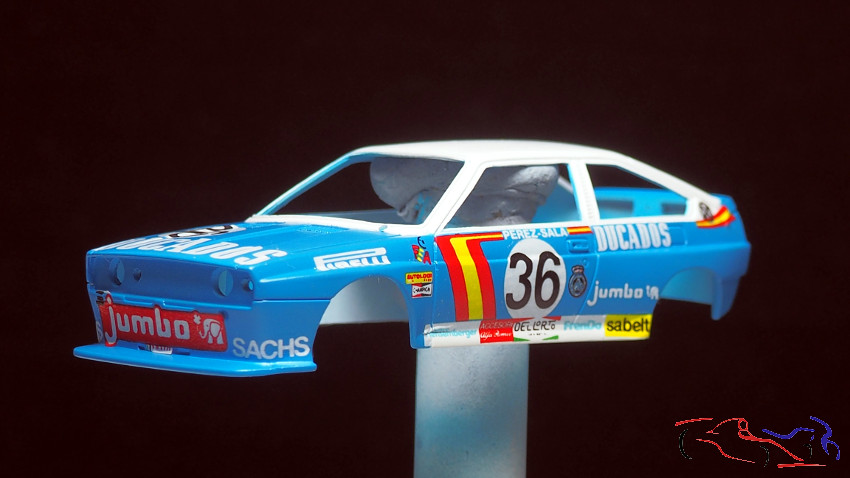 Pero vamos al principio… Lo primero fue desarmarlo, cosa complicada porque tenía los tornillos camuflados , y porque el cristal se rompió en la luna trasera….Ya veremos como lo soluciono!!
But we go to the beginning … The first thing was to disassemble it, a complicated thing because it had the camouflaged screws, and because the glass broke on the rear moon …. We will see how I solve it !!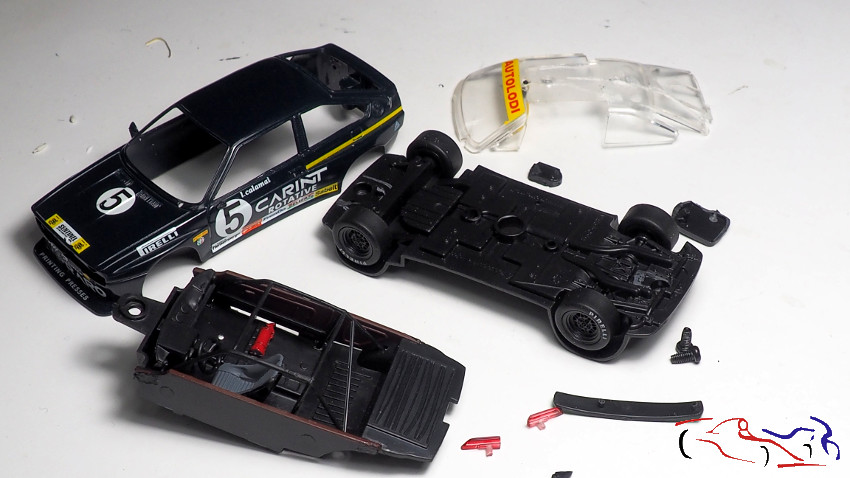 Siguiente paso: poner la carrocería en disolvente nitro, y al momento, al pintura se empieza a arrugar..
Next step: put the body in nitro solvent, and at the moment, the paint starts to wrinkle …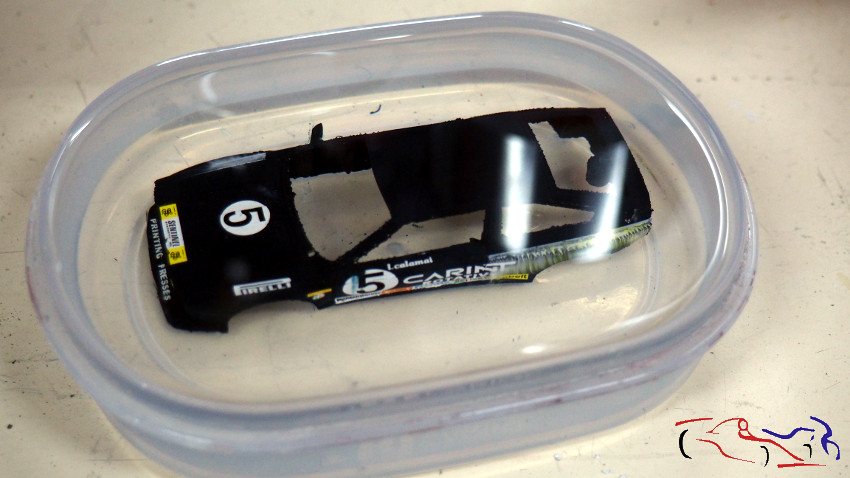 …y a arrugar!!
… and to wrinkle !!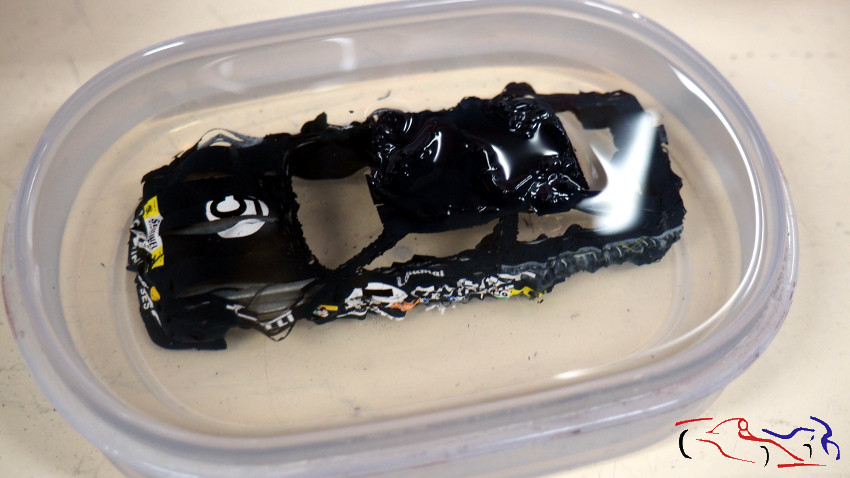 Después, con un cepillo de dientes, se frota y ya está!
Then, with the toothbrush help, rub it and that's it!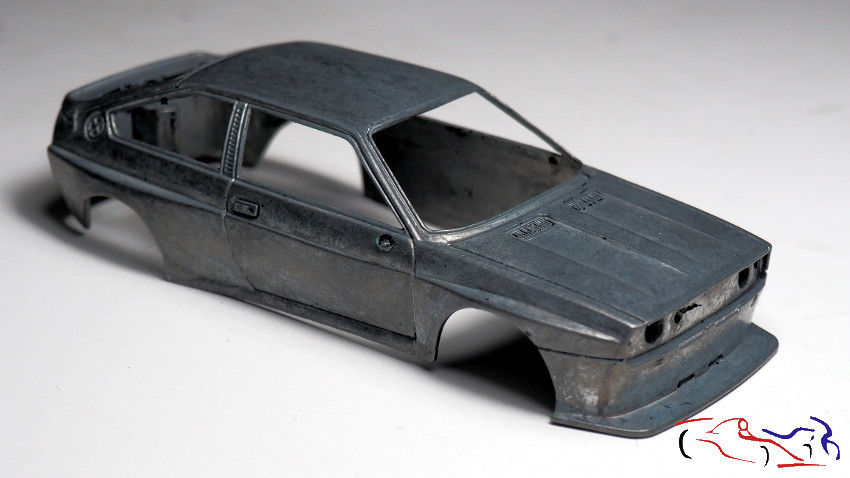 Ahora pasamos a limpiar la carrocería con lijas…
Now we clean the body with sandpaper …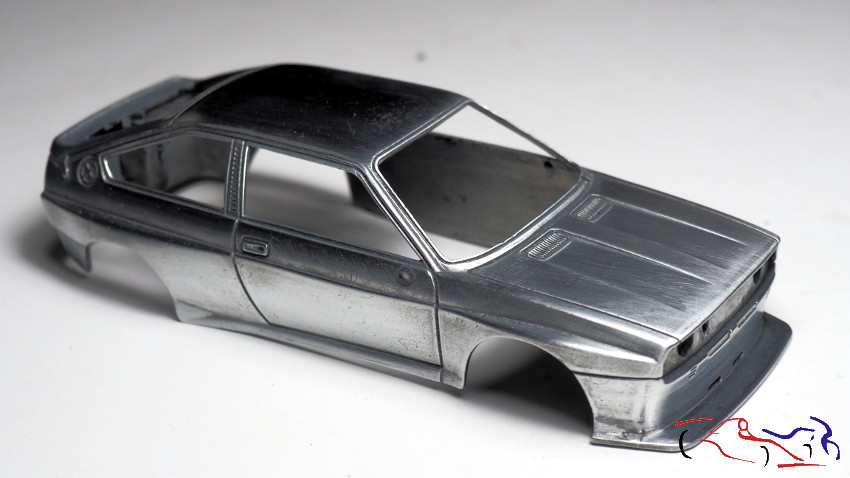 Imprimamos con Gravity…
We primed with Gravity..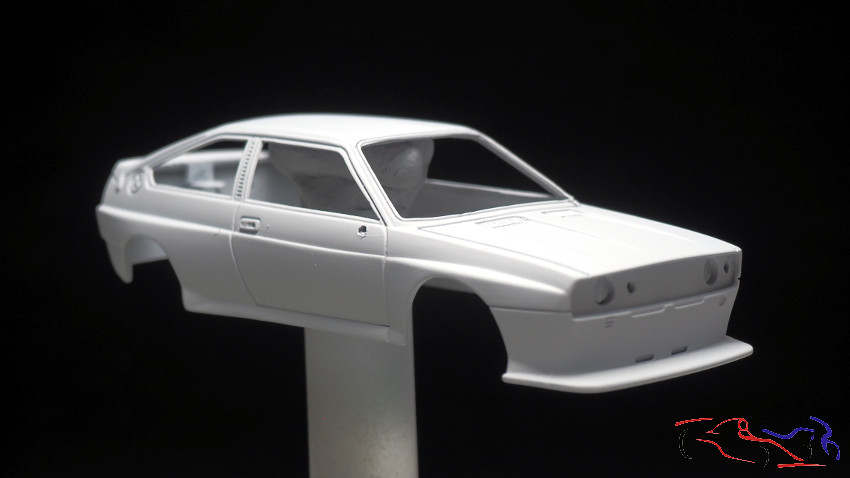 Comprobamos las imperfecciones del metal, e igualamos las partes afectadas, como los alterales del faldón trasero:
We check the imperfections of the metal, and match the affected parts, such as the rear skirts: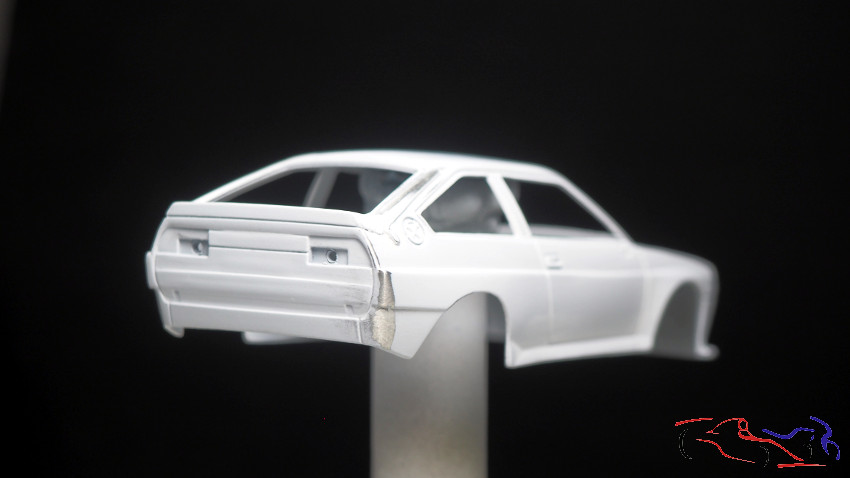 Una vez imprimado de nuevo…
Once it is primed again…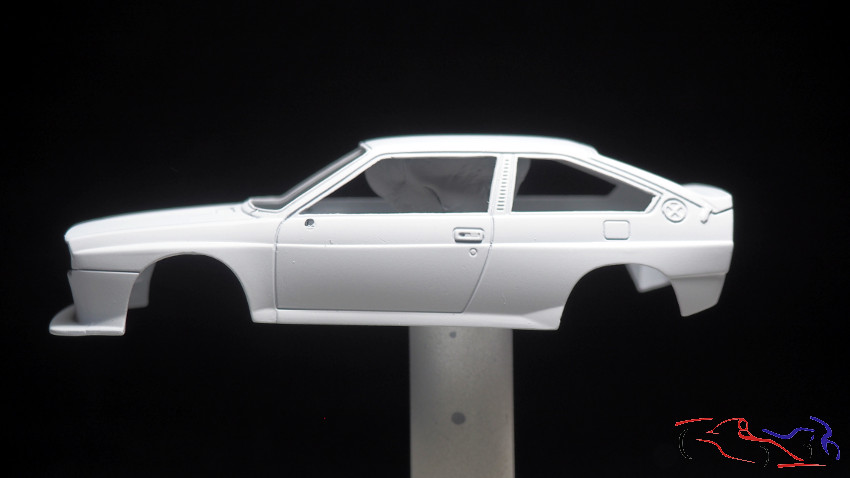 Lo pintamos con Blanco Brillante de Zero:
We paint it with Zero Brilliant White: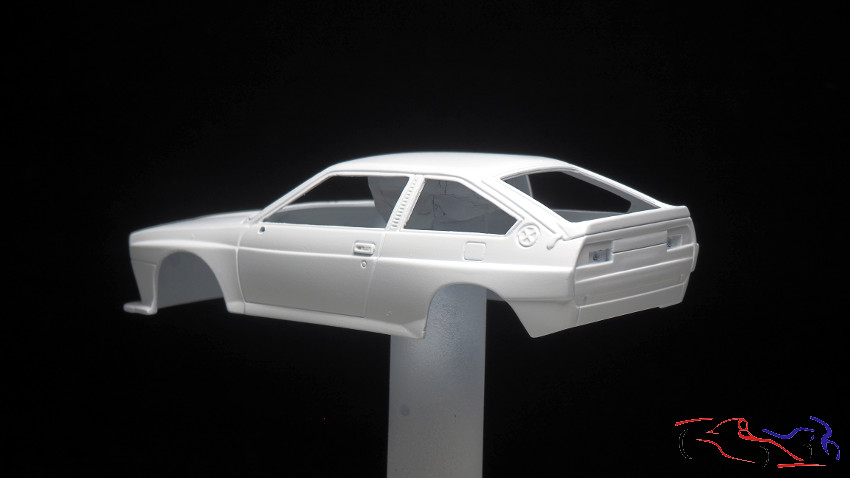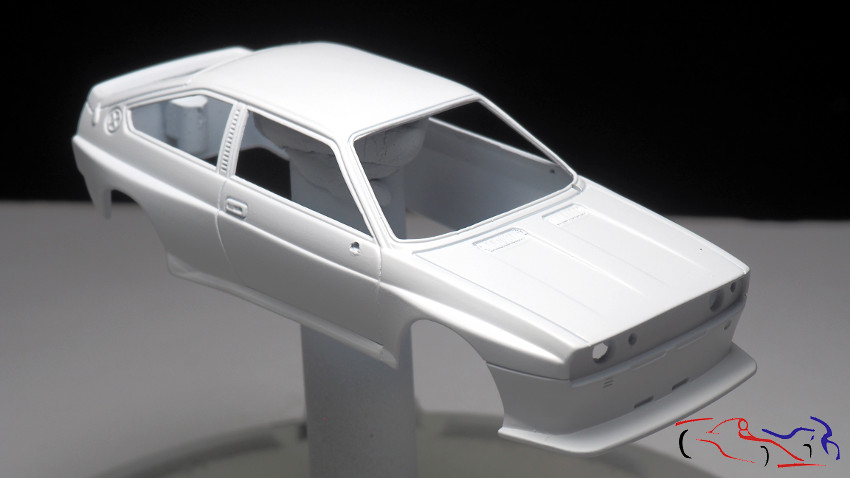 Lo siguiente es enmascarar para pintar el color azul de Ducados:
Next step is to mask it for painting it with "Ducados" blue: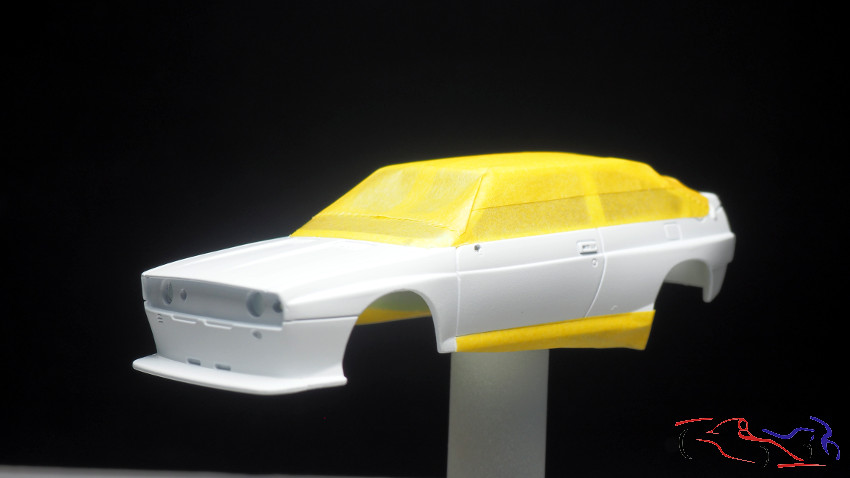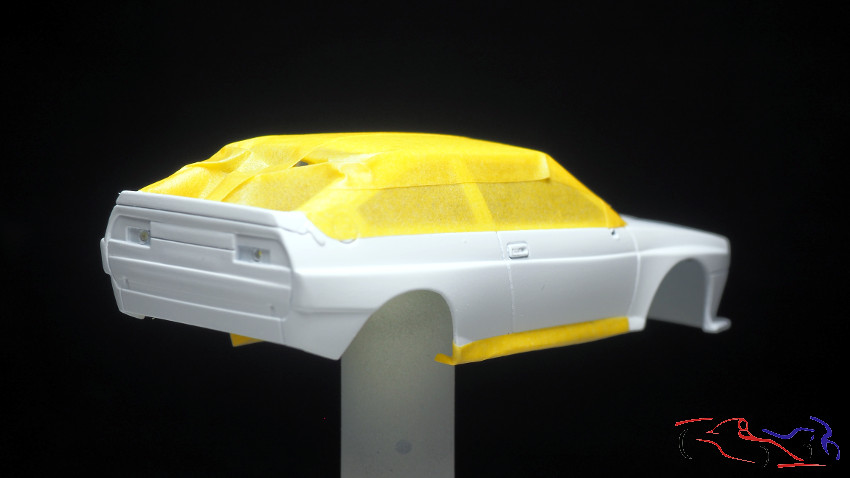 Y para ello, usamos el Azul Porsche México de Gravity. Dar las gracias a Gravity, porque el bote que me mandó, tenía unas imperfecciones y bloqueaba el aerógrafo, ante lo cual, me mandó sin coste alguno, otro bote en perfectas condiciones. Y aquí lo pinté:
And for that, we use Gravity Porsche Mexico Blue. To thank Gravity, because the boat he sent me, had some imperfections and blocked the airbrush, before which, he sent me at no cost, another boat in perfect condition. And here I painted it:
We take out the masks..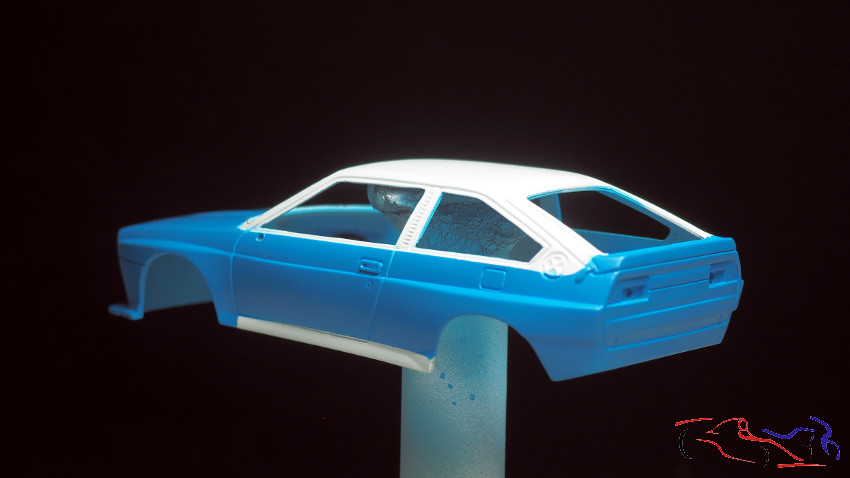 Y ponemos las calcas. Decir que no es que sean una maravilla, por ser duras y y no pegar bien!
And we put the decals. To say that they are not wonderful, for being hard and not hitting well!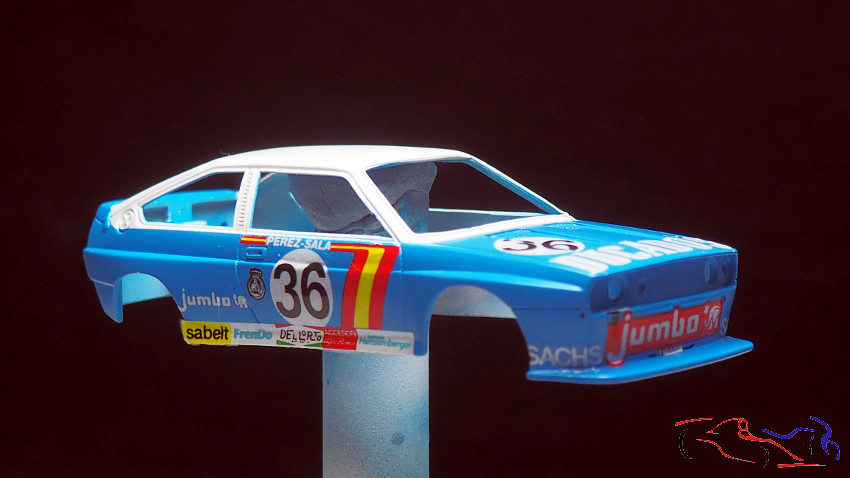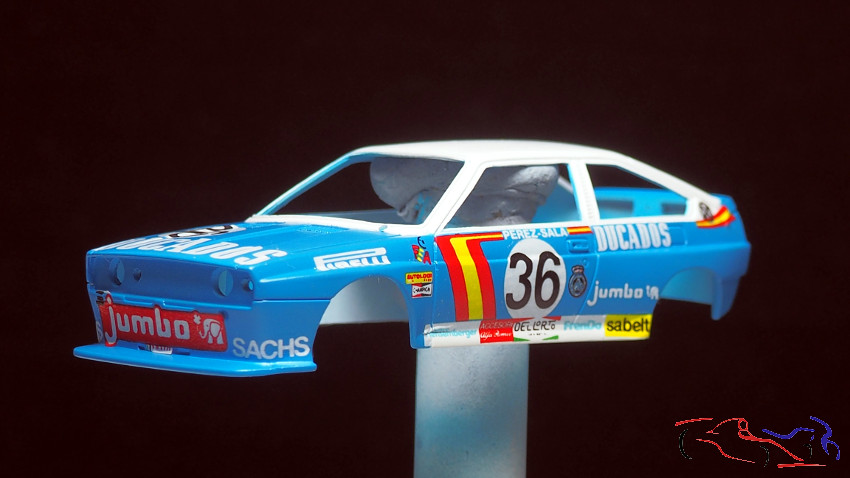 Lo siguiente será darle una capa de future para protegerlo, para después lacarlo.
Gracias por ver y comentar!!
The next thing will be to give a layer of future to protect it, and then lacquer it.
Thanks for viewing and commenting!!