A la vez que termino los dos Opel Manta y teniendo tiempos muertos, me decido a empezar otro proyecto, siendo en esta caso, un coche de GT: Mercedes AMG GT3!. Para ello usaré el último modelo de Tamiya a escala 1/24:
At the same time that I finished the two Opel Manta, and having downtime, I decided to start another project, being in this case, a GT car: Mercedes AMG GT3 !. For this I will use the latest model of Tamiya at 1/24 scale: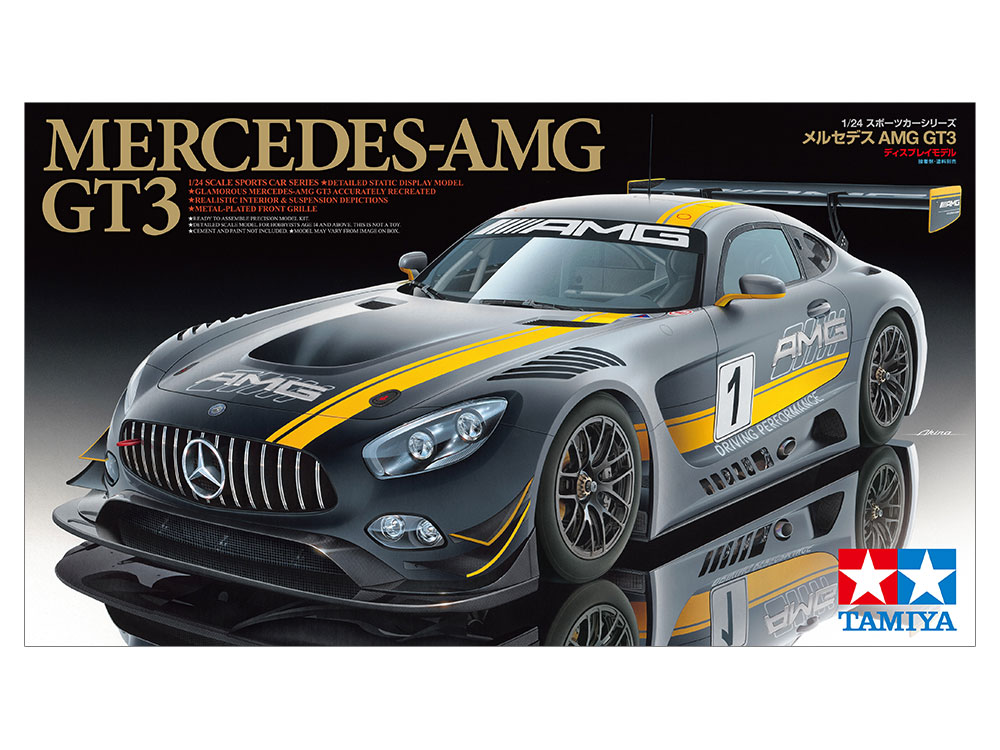 Pero tengo que decir que no usaré la decoración de la caja, sino la de Gulf, con las calcas de Slotfabric, y los colores de Gravity Colors que tiene en venta en España (Gravity-colors.com), como en la foto siguiente:
But I have to say that I will not use the decoration of the box, but that of Gulf, with the decals of Slotfabric, and the colors of Gravity Colors that it has for sale in Spain (Gravity-colors.com), as in the following photo: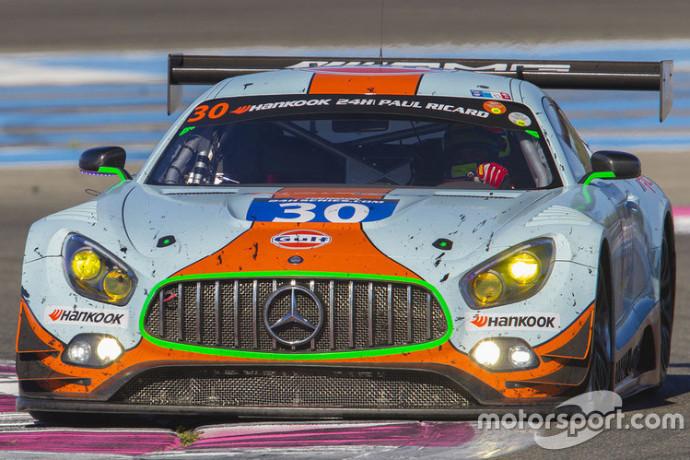 Como siempre, pongo una foto primero de como está el proyecto, para después ir explicándolo:
As always, I put a photo first of how the project currently is, and then explain it: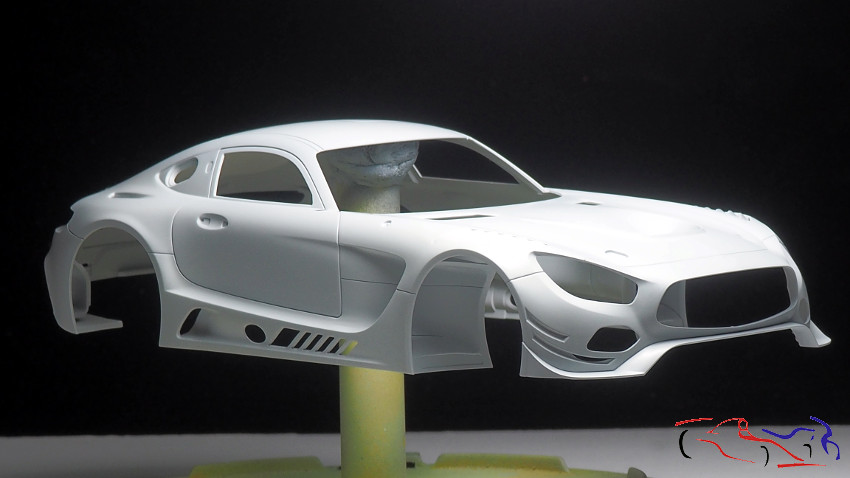 Empezamos colocando las piezas extras de la carrocería para empezar a trabajar sobre ella:
We start by placing the extra parts of the body to start working on it:
Y una vez eliminadas las marcas de molde y un repaso con lija de esponja a toda la carrocería, imprimamos con Gravity, y ahora podemos ver las partes que tenemos que retocar: las uniones de las entradas de aire de las aletas traseras:
And once the mold marks have been eliminated and a sponge sandpaper was applied to the whole body, we print with it Gravity primer, and now we can see the parts that we have to touch up: the joints of the air inlets of the rear wings: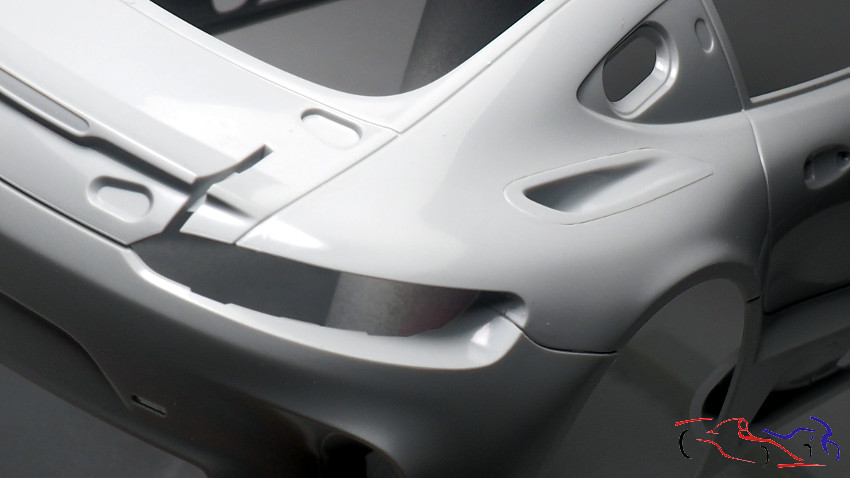 Otras piezas que tenemos que rematar son las entradas de aire al final de los laterales y delante de las ruedas traseras
Other pieces that we have to finish off are the air inlets at the end of the sides and in front of the rear wheels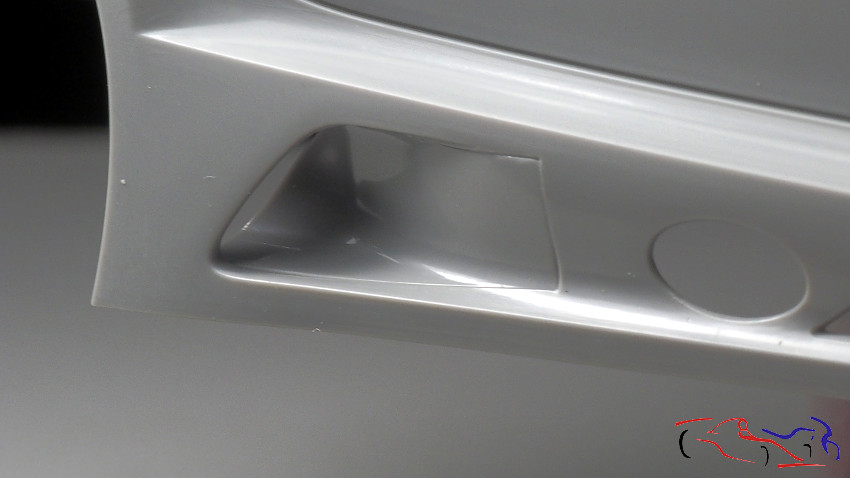 Y para eso ponemos putty Tamiya blanco y lo extendemos con un poco de acetona y un pincel:
And for that we put putty Tamiya white and we extend it with a little bit of acetone and a brush: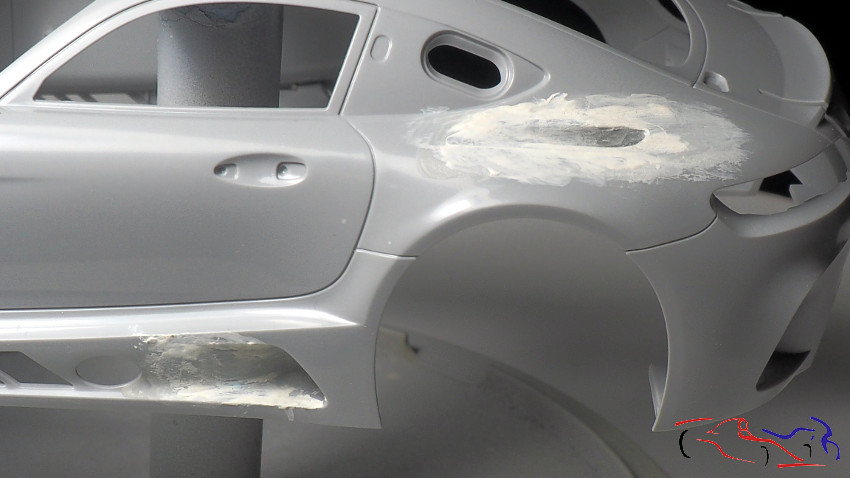 Lijamos y vemos el resultado:
We sand it and see the result: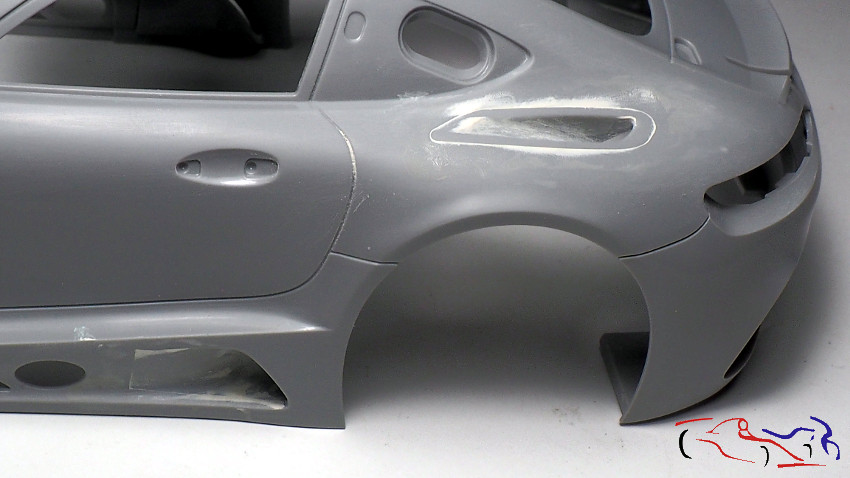 Este paso lo tuve que hacer 3 veces hasta que todo quedó como si no existieran ranuras:
I had to do this step 3 times until everything was as if there were no slots: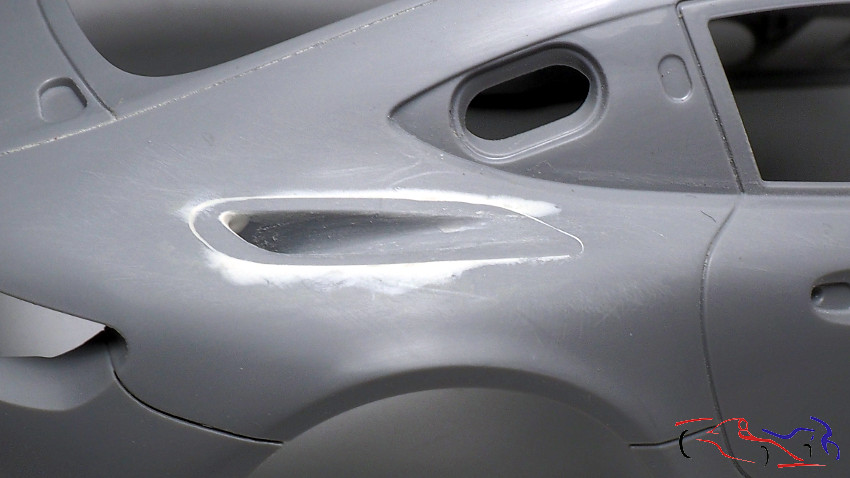 Y una imprimación final:
And a final priming: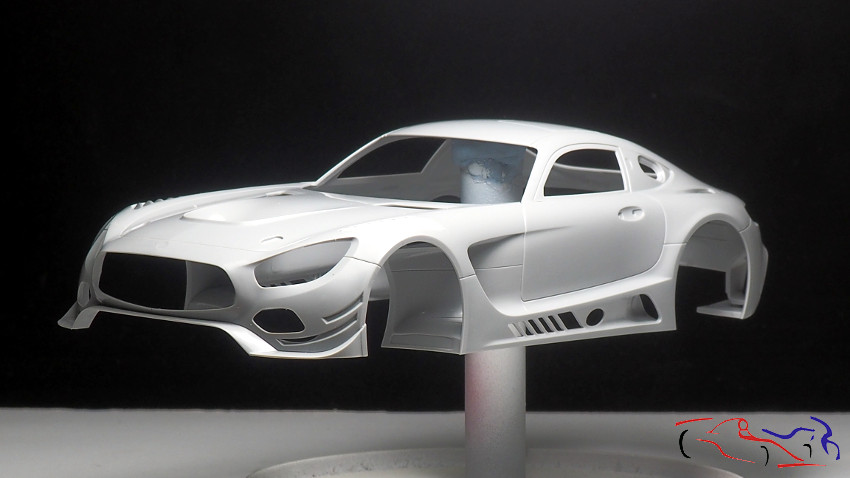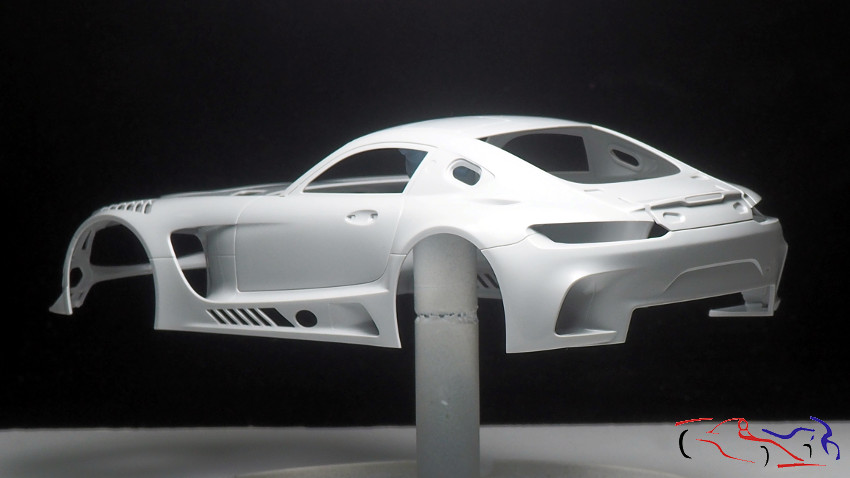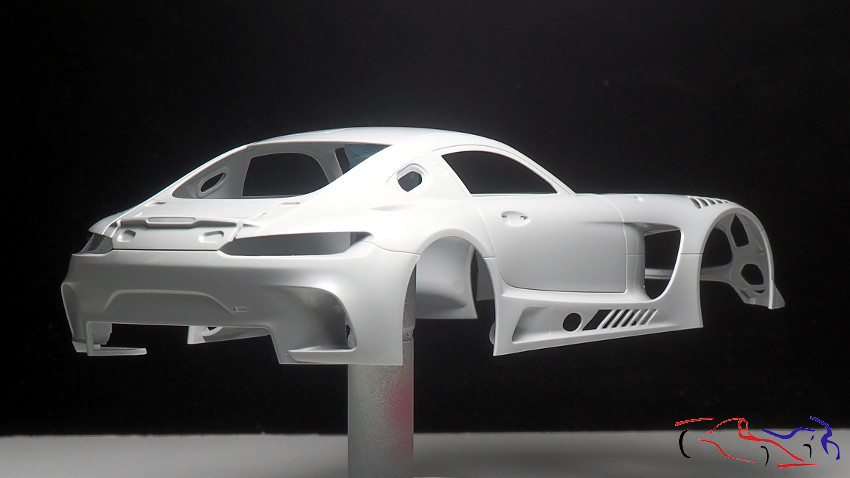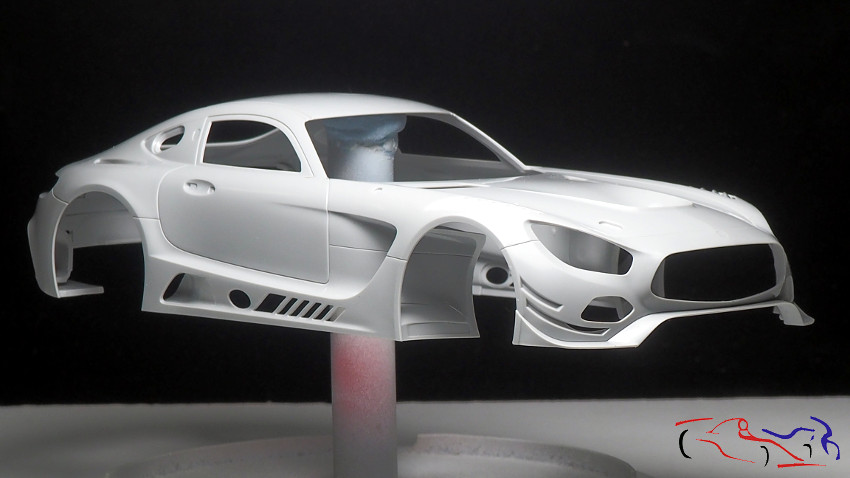 Aquí vemos otras vistas de esta espectacular maqueta:
Here we see other views of this spectacular model: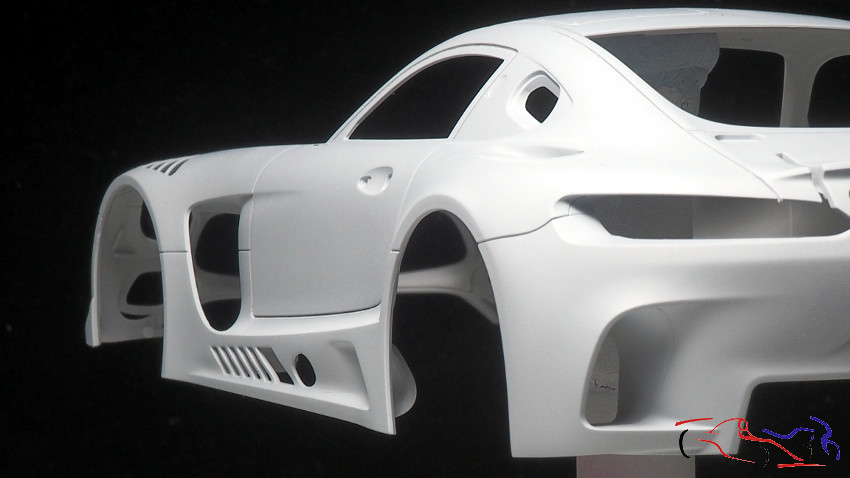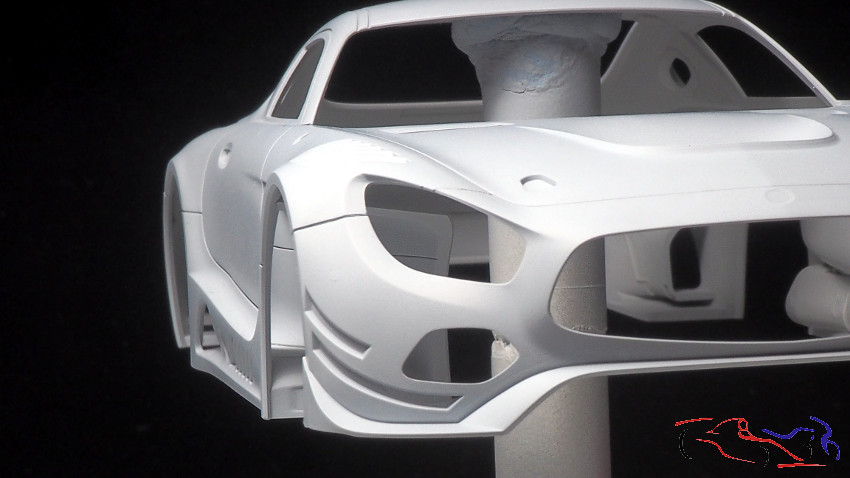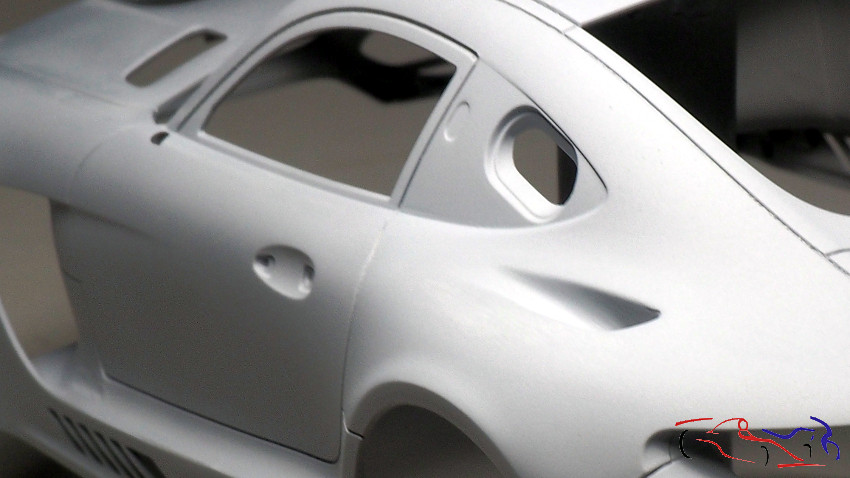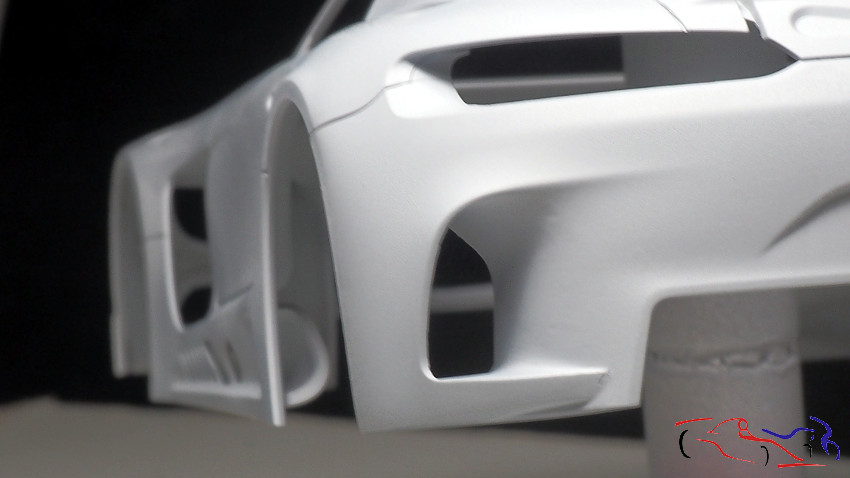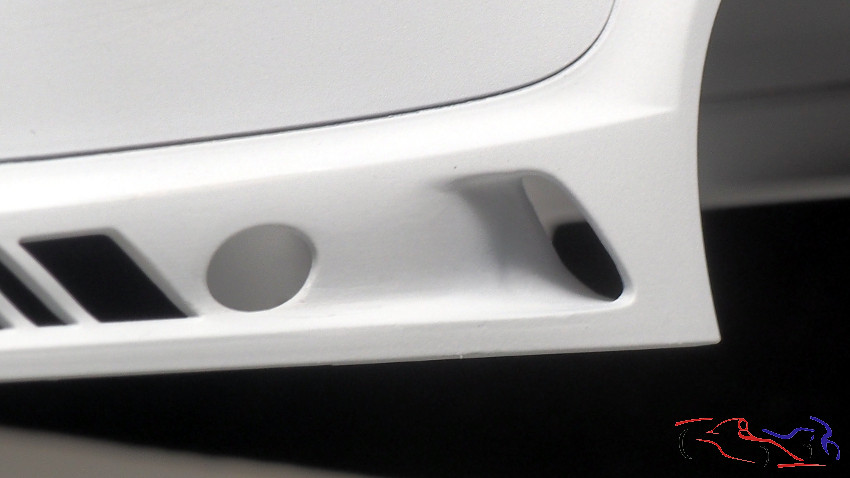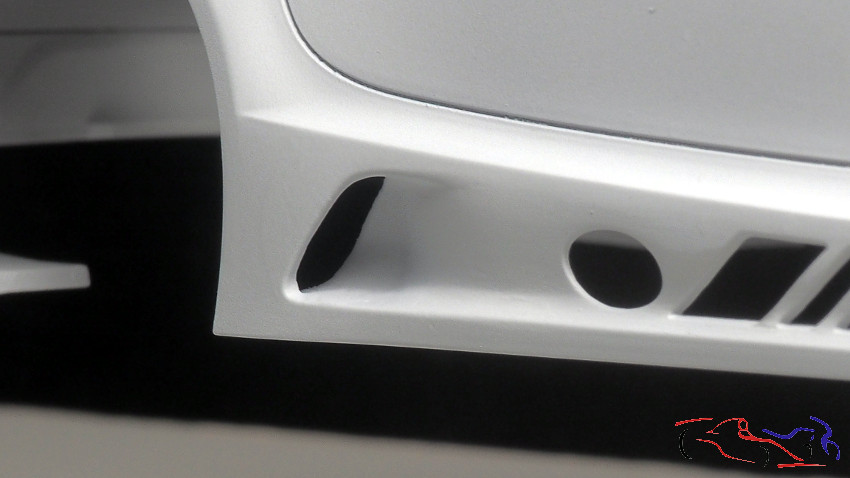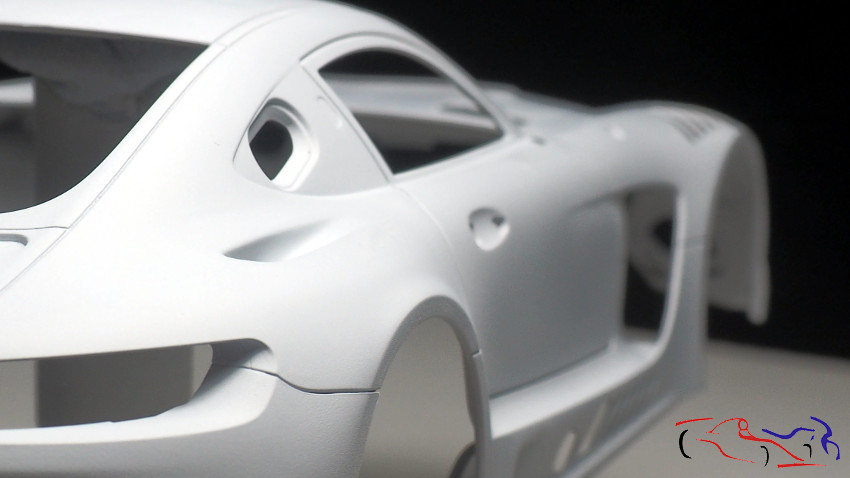 Otra particularidad de esta decoración, es que el cristal trasero iba también pintado, con lo que lo imprimamos y pegamos a la carrocería para el proceso de pintura
Another particularity of this livery, is that the rear glass was also painted, so we primed  it and glued to the body for the painting process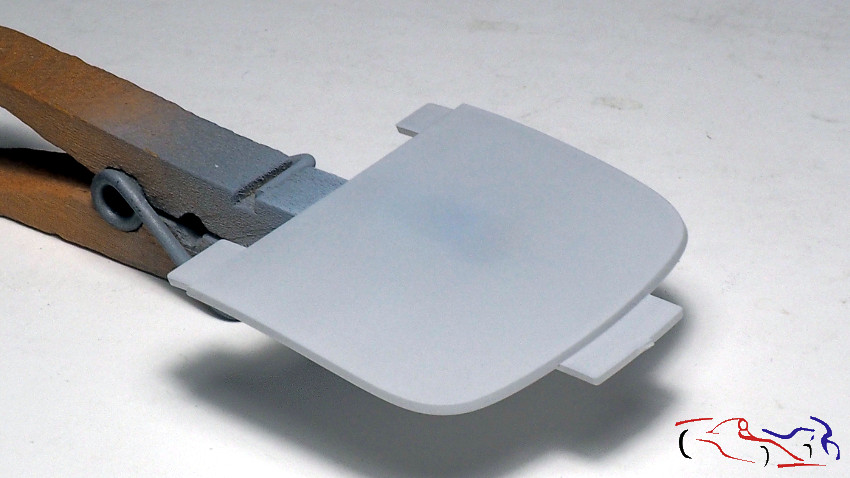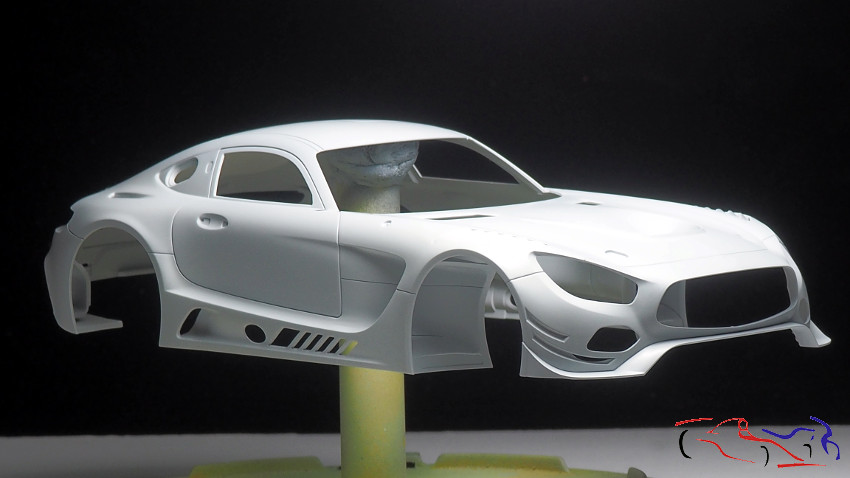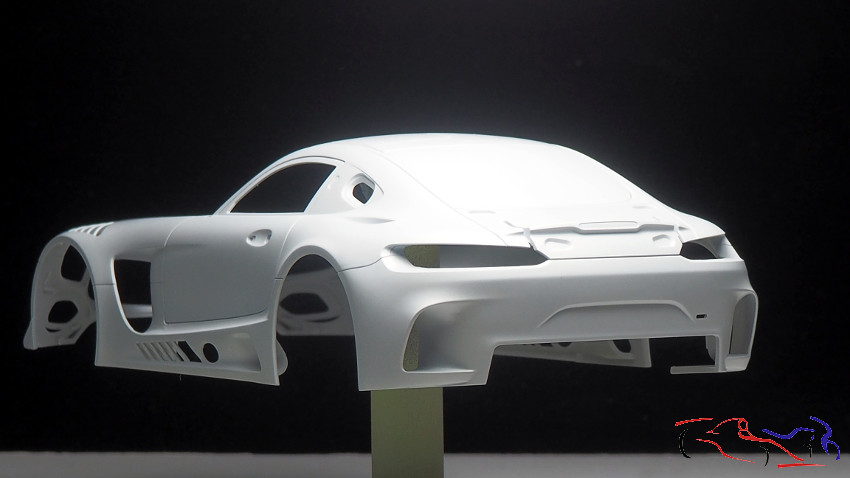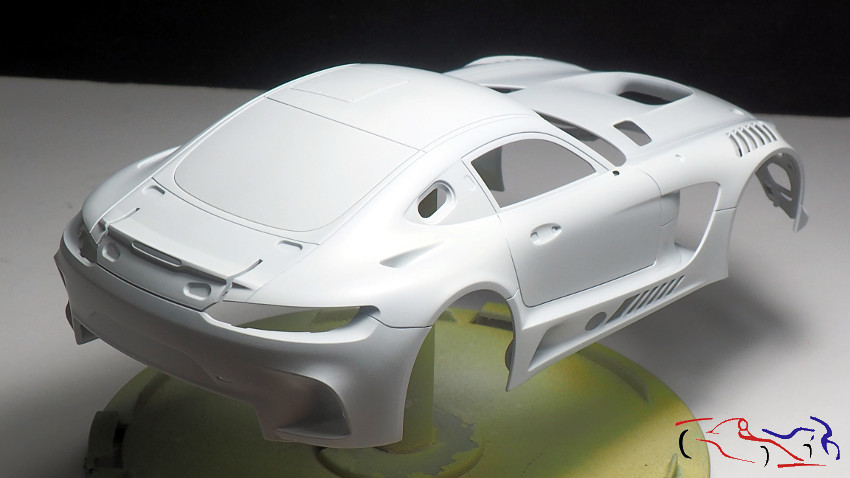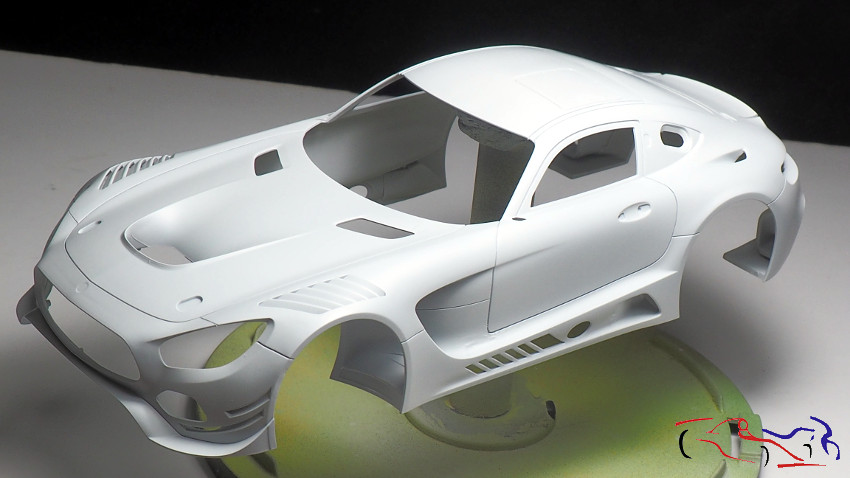 Pasamos ahora al alerón trasero, al que pegamos las derivas laterales:
Now we turn to the rear spoiler, to which we attach the lateral drifts: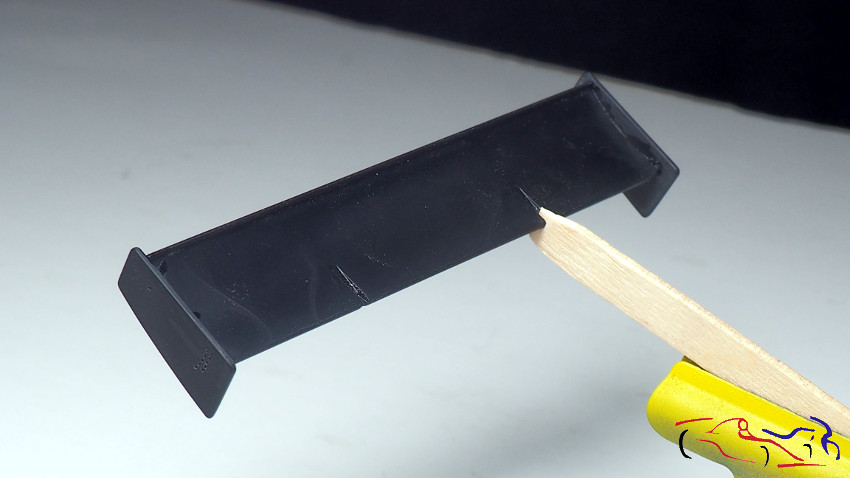 Y pintamos con Carbon Grey de Zero (ZP-13239) después de la imprimación, como base para aplicar las calcas de carbono, que se pondrán de la hoja de Studio27:
And we painted with Zero Carbon Gray (ZP-13239) after the primer, as a base to apply the carbon decals, which will be put on from the sheet of Studio27: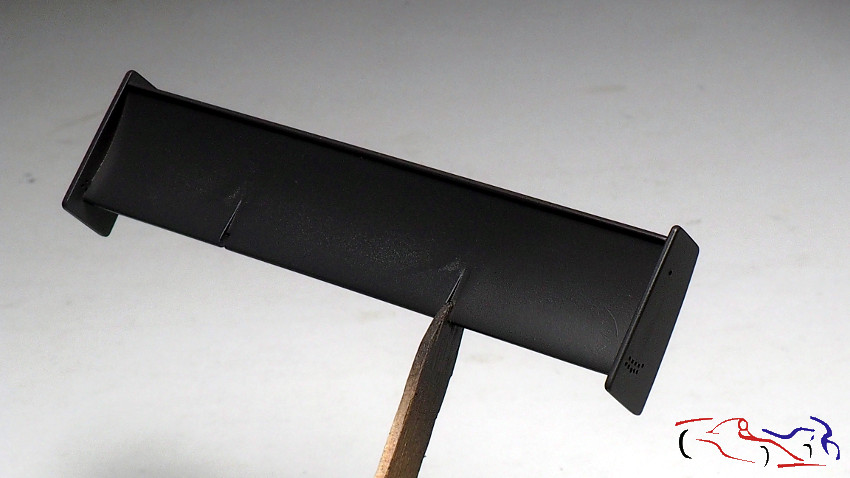 Así mismo, el chasis lleva el mismo proceso: pegamos las partes que van separadas:
Likewise, the chassis carries the same process: we paste the parts that are separated:
Imprimamos y pintamos con el mismo Carbon grey a la espera de la aplicación de las calcas de carbono:
We prime and paint it with the same Carbon Gray waiting for the application of the carbon decals: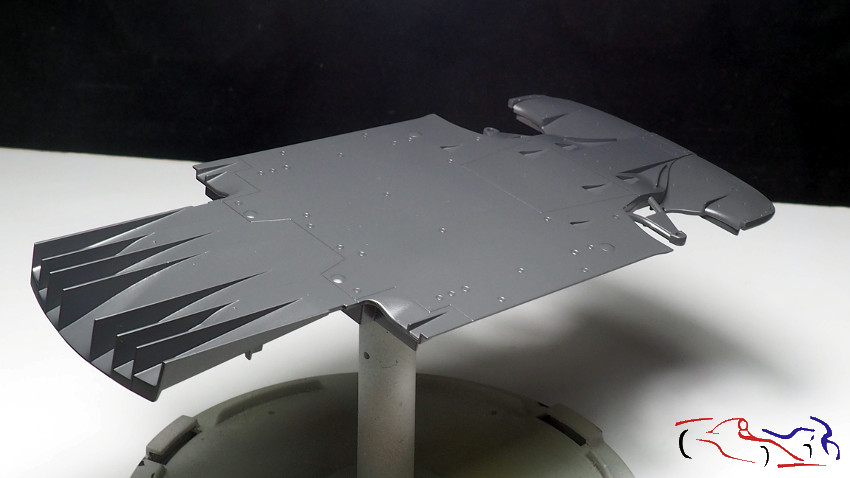 Esto es todo por ahora, aunque no lo realizado en la maqueta, ya que me he decidio poner algo antes de terminarla!!
Gracias por ver y comentar!!
This is all for now, although not done in the model, since I decided to put something before finishing it!
Thanks for viewing and commenting!!